One of the most common myths surrounding diabetes is that a diabetic should stay away from desserts. However, it is not really essential to set off-limits but enjoying any dessert in moderation. Check out the 5 best diabetic desserts that will manage your diabetes in the summer heat.
Are Desserts Part of Diabetes Food?
Since diabetes is a condition that causes a significant increase in sugar levels, there is no denying the fact that a person with diabetes must avoid sugary items in their diabetic diet. Moreover, it is also important to take care of the carbohydrate intake as it is one of the easiest ways to trigger blood sugar levels.
When it comes to desserts in diabetes food, a diabetic must avoid going overboard with them. However, this also does not mean that you need to cut down on sugar altogether. Opting for a healthy alternative and having it in moderation is the key to diabetes management. For instance, instead of going for processed and artificial sugars, you can opt for natural sugars such as honey, jaggery, or dates.
5 Best Diabetic Desserts
So, are there any desserts that are best for diabetics? Well, there are that are less concentrated on sugar and carbohydrates! Here are the recipes to 5 best desserts that you can enjoy in this extreme summer heat:
Berries with Vanilla Custard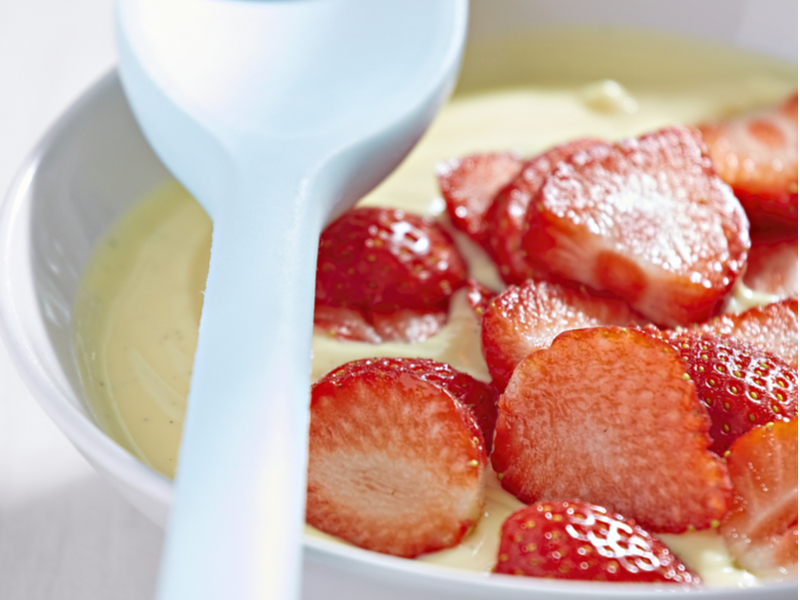 Ingredients
1 cup cream
2 large egg yolks
Sugar – 2 tablespoons
Vanilla extract – 2 teaspoons
Fresh berries – 2 cups
Steps
In a small saucepan, mix all the ingredients except for vanilla extract and fresh berries. Stir over low heat until the mixture becomes thick. Make sure the mixture does not boil.
Transfer the mixture to a bowl; add vanilla and stir. Cover it and refrigerate until cold. Serve with fresh berries as toppings.
Nutrition Facts
Calories – 166
Fat – 9g (5g of saturated fat)
Cholesterol – 132mg
Sodium – 34mg
Carbohydrate – 16g (11g sugars, 4g fibre)
Protein – 4g
 Chili-Lime Grilled Pineapple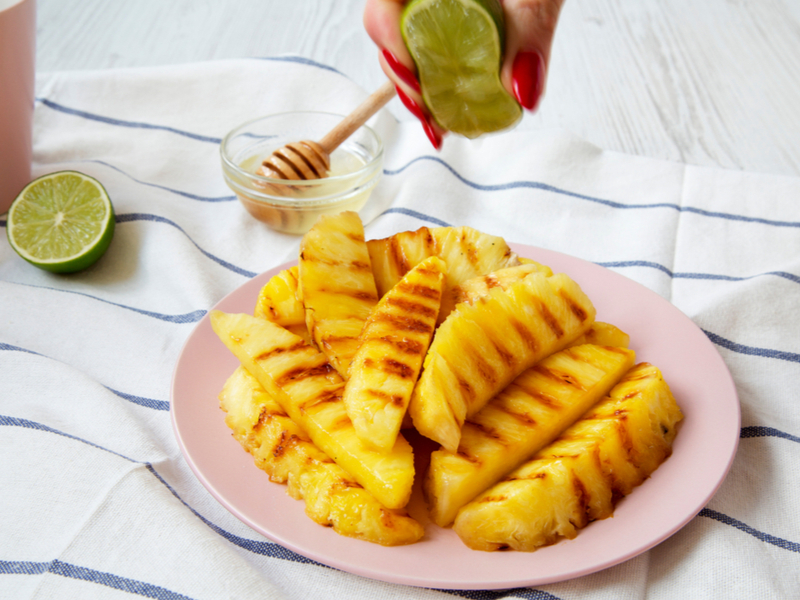 Ingredients
1 fresh pineapple
Brown sugar – 3 tablespoons
Lime juice – 1 tablespoon
Olive oil – 1 tablespoon
Honey – 1 tablespoon
Chilli powder – 1-1/2 teaspoons
A dash of salt
 Directions
Peel the pineapple and keep in mind to remove all the eyes from the fruit. Cut the fruit in quarters and cut out the core from each quarter.
In a small bowl, mix all the remaining ingredients to make a smooth lime chilli salt. Add the pineapples to the bowl and mix well.
Start to thread the pineapples onto the skewers and grill them. Heat it for 2-4 minutes until golden brown from all the sides.
 Nutrition Facts (1 serving)
Calories – 97
Fat – 2g (0 saturated fat)
Cholesterol – 0mg
Sodium – 35mg
Carbohydrate – 20g (17g sugars, 1g fibre)
Protein – 1g
Fruit Pizza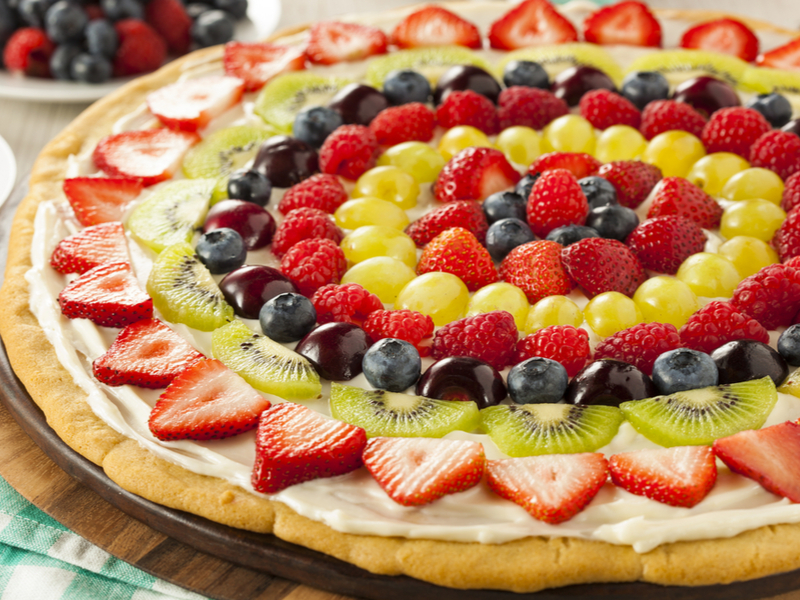 All-purpose flour – 1 cup
Sugar – 1/4 cup
Butter – 1/2 cup
GLAZE:
Cornstarch – 5 teaspoons
Pineapple juice – 1-1/4 cups
Lemon juice – 1 teaspoon
TOPPINGS:
Low-fat cream cheese – 1 can
Sugar – 1/3 cup
Vanilla extract – 1 teaspoon
Strawberries – 2 cups (halved)
Blueberries – 1 cup
Kiwi – 1 cup
Oranges – 1 can (drained)
Directions
Preheat the oven to 350-degree Celsius.
In a large bowl, mix flour, sugar and butter. Pour the mix onto an ungreased pizza pan and bake until the mixture becomes light brown. It should take around 10-12 minutes and thereafter keep it aside to cool.
In a different bowl, mix all the glaze ingredients until the mixture smoothens and comes to a boil. Continue cooking until the mixture thickens.
Beat the cream cheese, sugar and vanilla in a bowl until smooth. Spread the mix over crust evenly. Top it with fruits (berries, kiwi, oranges). Sprinkle the glaze and refrigerate. Serve cold.
Nutrition Facts (1 slice):
Calories – 170
Fat – 9g (6g saturated fat)
Cholesterol – 25mg
Sodium – 120mg
Carbohydrate – 20g (13g sugars, 1g fibre)
Protein – 3g
Strawberry-Cherry Crisp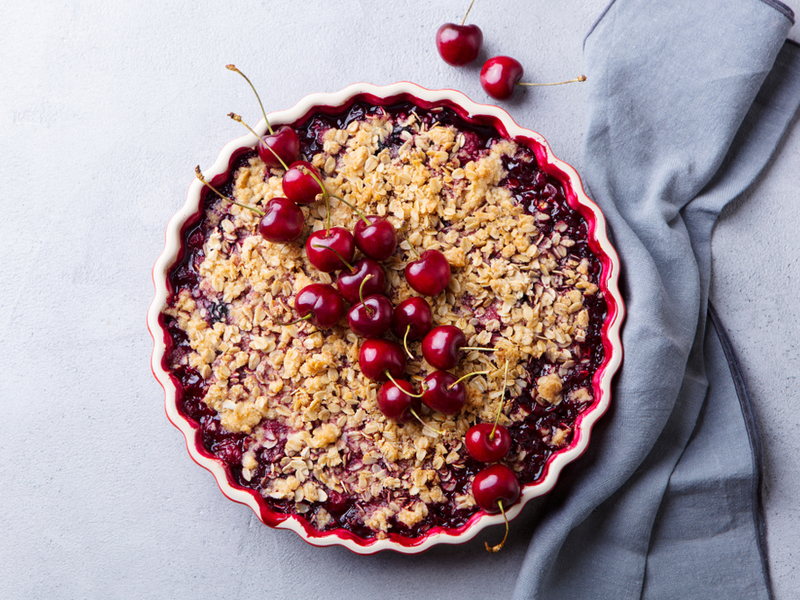 Ingredients
Whole-wheat flour – 1/3 cup
Oats – 1/3 cup
Coconut flakes – 1/4 cup
Brown sugar -1/4 cup
Salt – 1/4 teaspoon
Coconut oil – 1/4 cup
    Filling
Strawberries – 1-1/2 cups (halved)
Cherries- 1-1/2 cups (halved)
Brown sugar – 1/4 cup
 DIRECTIONS
Preheat the oven to 350 degrees.
Combine all ingredients in a medium bowl and knead. Continue the process until oil is combined with the mixture.
Ina different bowl, mix all the ingredients for filling.
Transfer filling into a pan and top it evenly with the kneaded mixture. Bake the mixture until the topping becomes golden.
Keep it aside to cool before serving.
Date Shake Popsicles
Low-fat plain yoghurt – 2 cups
Dates- 12 (chopped)
Cinnamon powder – 1/4 teaspoon
Low-fat milk – 3/4 cup
Mix all the ingredients in a blender and continue blending until smooth. Fill the popsicle moulds and freeze.
Tips to Eat Desserts When Going Out
Here are a few tips that will help you when you are eating diabetic desserts outside of the house and help in following your diabetic diet:
We all know the proverb 'Sharing is Caring'. Well, when it comes to diabetes food, especially desserts, it actually is true. Share your desserts with people you are out with. This will not only satiate your craving and reduce your consumption but will also help in building bonds.
Do not add any artificial sugars in your desserts
The artificial sugars if added to your existing dessert, can increase the sweetness of the dessert and also cause a spike in sugar levels. Therefore, it is best to avoid that extra layer of sweetness to your dessert. For instance, when ordering waffles or ice creams, you can simply say no to the chocolate syrup that comes along with it. Instead, you can ask for healthy toppings such as nuts and berries.
Ask and replace natural and healthy sweeteners
If you still want to add sweetness to your dessert, you can opt for natural sweeteners such as fruits, raw honey, dates, etc. This will have a lesser calorie count in comparison to the artificial sweeteners.
So, there you go! Next time you have a sweet tooth, you can make any of the fantastic diabetic desserts mentioned above and delve into it without any guilt.