We all love puddings and desserts. Reaching out for a candy bar or bowl of kheer can make any day, joyful. But, what if, you have diabetes? Sugar and sweet treats are the last thing on your to-eat list. You cannot and should not eat puddings, according to the doctor's prescription incase your blood glucose levels are not in normal range. To know your blood sugar levels, you can use a Smartphone Glucometer which offers readings instantly.
At BeatO, we believe in making diabetes an easy journey. Depriving is not the key. Modify your meals. Tweak your treats.
So if you feel like having a sweet treat, there are many options available. You may have a dried fig or prunes. Cook a milk based pudding in artificial sweetener or try out a quick pudding recipe that may taste delicious and is healthy too.
BeatO Oats Pudding – A bowl of chilled dessert with oats will taste awesome on days you crave sugar.
Soak a teaspoon of chia seeds in a glass of water for 30 minutes. After it gels up, add about 50 ml of coconut milk or soy milk (unsweetened) to this. Add a tablespoon of grated coconut and chill in refrigerator for 30 minutes. Eat chilled sprinkled with your favorite BeatO oatmeal with cranberries or cinnamon.
This can also be made a night before and had as breakfast right from the fridge.
So get innovative and try out new healthy recipes even if you have diabetes. Eat well, exercise, sleep and rehydrate.  Diabetes management requires you to consult your endocrinologists for medication. Annual screening and follow-up for eyes, dental, foot, skin and kidneys is recommended.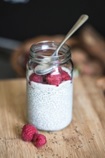 Diabetic Diet and diabetes educators make a great support team to help you decide what to eat and how to eat. A team like BeatO is dedicated to making diabetes care convenient with good guidance and right approach. Hope that you appreciate the services offered by the certified experts on-board and take control of your diabetes.