South Indian food options are often high in Glycemic Index, as most are have rice as their base. However, when eaten in controlled portions at a restaurant is not so hard to choose from for a Diabetes Patient. Here is our take on it.
All food items in this South Indian menu guide are chosen on the basis of being:
Comparatively lower in calories & fat than other food items in the menu
Low GI foods ( Glycemic Index)
Cooked through healthy methods.
High in fiber and protein
Make sure you control your portions and personalize your plate, as per the needs by asking at the restaurant.
Vegetable Upma (Rava /Suji based)
Rasam drink
Chaach/ Buttermilk
High GI foods can be enjoyed once in a while, if eaten in small portions
Small plain dosa – Without butter and without filling
Small Paneer dosa
An Idli with sambar
Mixed vegetable or onion tomato Utthappam, preferably Rava / Suji based.
Easy BeatO tips:
Avoid fried options such as vadas
Avoid the potato filling in Dosas
Choose more vegetable based options
Choose alternative such as Suji/ Ragi/ Chana bases if available at the restaurant.
Navratri Special Recipe
Here we have provided a special recipe for fasting during Navratri. Do try this simple recipe at home.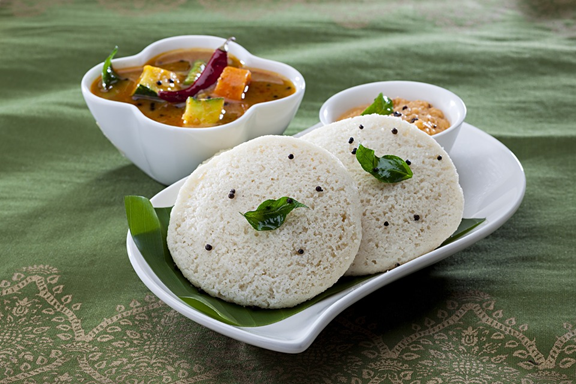 Navratri Idlis – Low on GI
Ingredients
200 grams of Samak rice
100 grams of sour curd
Coriander
Green chillies
Baking powder
Serves 4-5 people
Preparation
Take 200 grams of Samak rice and soak it for 2-3 hours
Then grind them in mixer and add 100 grams of sour curd
Add little water and make it like idli dough
Then add coriander leaves, green chillies and salt to taste.
When you're ready to steam the idlis add ½ tea spoon of baking powder.
Then steam them for 5-7 minutes.
Idlis are ready to eat
People who eat vegetables during their fasts can add carrot, cabbage etcetera
The idlis can be eaten with mint sauce