Do you feel the pangs of hunger during the day and want to munch on something delicious? But being a diabetic, you might be apprehensive that it will lead to a spike in your sugar levels. Don't worry! We have the perfect Diabetes-friendly Chips Chaat recipe for you.
It is definitely a healthy munching option. But don't forget to keep your portion size in check while relishing this delicious chaat. Check out the recipe below-
Diabetes-friendly Chips Chaat Recipe
Fig chutney
Ingredients
3 Figs – whole
½ tsp Kala Namak
1 tsp Red Chilli Powder
1tsp Bhuna Jeera Powder
1 tsp Saunth Powder
1 tbsp Amchoor Powder
Salt to taste
Method
In a pan, add water and figs. Cook until they are mushy and cover it with a lid.
Next, add the masalas. Cook this mixture for 5-8 minutes until it has reached the consistency of a chutney/ sauce.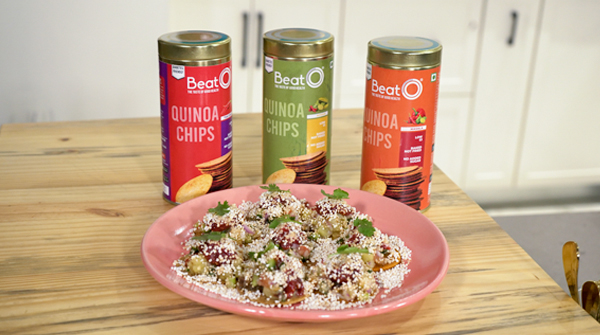 For the Chaat
Ingredients
½ Boiled Sweet Potato – finely chopped
1 Tomato finely chopped
1 Cucumber finely chopped
1 Onion finely chopped
Roasted Amaranth / Quinoa popped
½ tsp Red Chilli Powder
Fresh coriander
1 Lemon
½ tsp Chaat Masala Powder
1 Green Chilli – finely chopped
Salt
Method
Combine all the vegetables with the masalas.
Top up the BeatO chips with kachumber.
Put some fig chutney on top of every chip.
Add some roasted amaranth seeds and lemon juice on top. 
Finish it off with some coriander leaves. 
Read More: Low-Carb Zucchini Paratha Recipe | Diabetes-friendly Paratha
Benefits
Sweet potatoes can offer a lot of benefits for people having diabetes. It has high levels of fiber and magnesium which can aid in reducing insulin resistance. It can also help in stabilizing your glucose levels.
Sweet potato has a moderate glycemic index which makes it a good substitute for white potato. You can also opt for pumpkin and squash instead of going for white potato.
If you want to be extra careful, don't forget to do a quick sugar check after consuming this healthy snack. If you have any further doubts, do not forget to consult your doctor or health coach. They will give you the right guidance and tell you about the diet and lifestyle changes you need to make, to keep your sugar levels within the controlled range.
Get the best health advice with BeatO.
Author- Sakshi Poptani