While everyone enjoys mangoes, diabetics have to think twice before they can even include this summer's favorite fruit in their diabetic diet. But not anymore! In this blog, check the benefits of mango for diabetics.
Mango and Diabetes
In a recent study, mango has been identified as a safe fruit for a diabetic diet. Since the main purpose of following a diabetes patient food regime is to eliminate excess carb and sugar intake, mangos have been excluded due to their high sugar and complex carbs content.
However, the other nutritious elements which make mangos the king of fruits and are now considered beneficial as part of food for diabetics are significant amounts of Vitamins E, K and B complex vitamins (except for Vitamin B12). Mangos, as part of diabetic diet plans, are also high in fibre and contain calcium, potassium and copper.
The high fibre content helps restrict the quick absorption of sugars. They also contain some omega-3 and omega-6 fatty acids, though overall, are very low in fat.
According to diabetes experts, in food for diabetics, one serving of fruits during the day should contain 15 grams of carbohydrates – which means about half a cup of mango.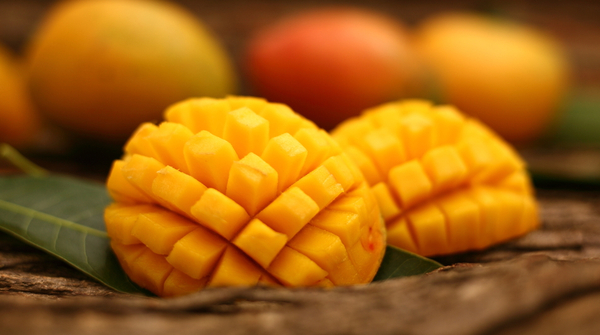 Benefits of Mango for Diabetics
Mangoes must be made an essential part of the food chart for diabetes. While the above mentioned components of mangoes are widely known, the lesser known qualities are what make mangoes beneficial for diabetics and non-diabetics alike. Mangoes contain a substance called mangiferin—which, in addition to anti-inflammatory and anti-viral activities. They also can help lower blood sugar levels and strengthen blood vessels. Both factors play a key role in food for diabetic patients and maintaining the overall health of an individual.
Certain components of mangos have been proven to provide the same cellular constituents as those targeted by anti-diabetes drugs. A recent study has even pointed out that eating freeze-dried mangos reduced blood sugars in both men and women.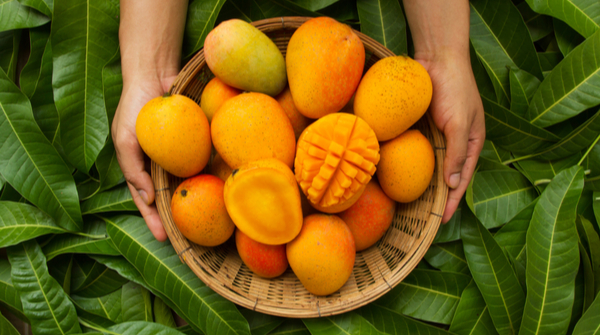 Being rich in vitamin A and C, mangos are loaded with antioxidants which get recycled and can be used to reduce the levels of free radicals. These radicals are major contributing factors for diabetes-related complications such as:
neuropathy
retinopathy
damage to blood vessels and kidneys
Precautions to Observe
It is advisable to consult one's nutritionist before including mangoes in your diet. Also, measure your blood glucose levels before and after consuming mangoes. Ensure to use a handy and compact glucometer to conveniently take sugar readings. Discuss the required changes in diet and lifestyle with your personalized diabetes educator.
We are sorry that this post was not useful for you!
Let us improve this post!
Tell us how we can improve this post?