Treat yourself to the deliciousness of jowar methi thepla, a Gujarati-style flatbread made with the goodness of jowar and methi leaves. How is jowar better than wheat? Jowar is higher in antioxidants as compared to other grains. Moreover, it also has a lower glycemic index than wheat despite having similar values of fiber and protein. The glycemic index of Jowar is 50 as compared to 60 of wheat.
Methi leaves can improve the metabolic symptoms associated with type 1 and type 2 diabetes by improving glucose tolerance and lowering blood glucose levels. Both Jowar and methi have significant health benefits making it an appetizing and healthy meal. It is a low-calorie diet rich in magnesium, potassium, protein, iron, and calcium. Eating jowar methi thepla helps you stay energetic, maintains heart health, and controls diabetes and weight loss.
How to Make Jowar Methi Thepla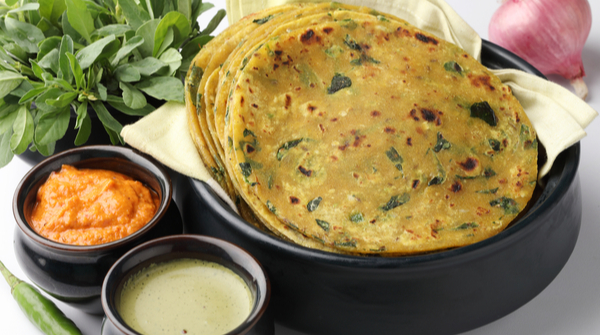 Total Cook Time: 25 mins
Ingredients for Jowar methi thepla
Grated carrots- 2
Chopped methi leaves (Fenugreek leaves)- 1 cup
Cumin (Jeera) seeds- 2 teaspoon
Red chili powder- 1 teaspoon
Turmeric powder- 1/2 teaspoon
Cooking oil
Jowar flour (Sorghum)- 1½ cups
Whole wheat flour- 1 cup
Salt to taste 
Method
To begin making the Jowar Methi Thepla, add grated carrot, chopped methi leaves, cumin seeds, turmeric, red chili powder, salt, whole wheat flour, and the jowar flour in a large mixing bowl.
Add water a little at a time and form a firm dough.
Keep the thepla dough aside for at least 10 minutes and shape them into medium-sized balls.
Dust the dough with wheat flour and roll it gently to into a thin circular thepla.
The diameter of the jowar methi thepla depends on how thin or thick you want it to be.
Repeat the same process with the remaining dough portions.
Preheat the skillet on medium flame. Place the rolled jowar methi thepla gently on the tawa and cook on both sides. Drizzle oil or ghee and cook till the thepla have brown spots on either side.
Read More: Fenugreek and Rice Dosa Recipe (Adathatti in Malayalam)
The high fiber content in both ingredients makes it an amazing breakfast option for people with diabetes. Serve it piping hot along with curd, raita, or chutney to make a complete breakfast meal.
Along with healthy eating practices, it is also very important to keep a glucometer handy to check your blood sugar levels regularly.
Download the BeatO App to enjoy more such fun and healthy recipes.