Diabetes, a widely recognized ailment, affects millions of people worldwide. It is classified into two types broadly and is caused due to various factors:
In type 1 diabetes, the pancreas does not make insulin because the body's immune system attacks the islet cells in the pancreas that make insulin.
In type 2 diabetes, the pancreas produces lesser amounts of insulin than it normally should, and your body becomes resistant to insulin.
Over the years, people have grappled with diabetes, a chronic condition that currently lacks a cure. However, effective management can reduce its impact on one's quality of life. Although some believe diabetes is challenging to manage, there are inspiring examples of famous celebrities who have effectively handled this disease.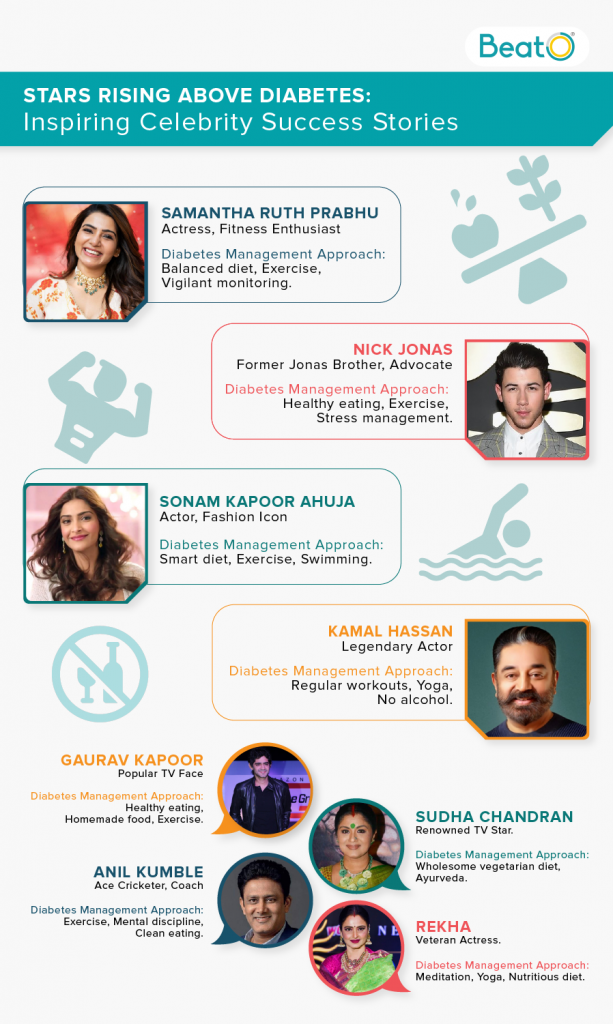 Here are some prominent personalities living with diabetes:
Samantha Ruth Prabhu
The popular and talented actress disclosed her diabetes diagnosis in 2013. She gained control over the disease through a combination of healthy eating, regular exercise, and diligent monitoring.
Nick Jonas

At the tender age of 13, Nick Jonas was diagnosed with type 1 diabetes. Despite this early challenge, the accomplished former Jonas Brother has gone on to lead a remarkably successful life, actively raising awareness about the profound impact of diabetes.
Sonam Kapoor Ahuja
An actor and a fashion icon, she was diagnosed with type 1 diabetes at a young age. Despite balancing her career and health challenges, she manages her condition with a well-planned diet, regular exercise, and physical activities like swimming.
Kamal Hassan
This living legend successfully manages type 1 diabetes through regular workouts and abstaining from alcohol. He also dedicatedly practices yoga.
Gaurav Kapoor
A popular TV face changed his lifestyle to manage diabetes after being diagnosed at 22. He emphasizes on eating healthy, carrying home-cooked food for shoots, and incorporating regular exercise and functional training to manage his diabetes in his busy schedule.
Sudha Chandran
Another famous TV star manages her diabetes well with a healthy diet and lifestyle. She is strict about eating homemade vegetarian food and avoiding junk food. She promotes ayurvedic preventative solutions for diabetes.
Anil Kumble
The ace cricketer, coach, and commentator advocates for regular exercise, mental discipline, and clean eating to manage diabetes.
Rekha
The veteran actress practices a strict workout routine that includes meditation and yoga. Her diet consists of simple, nutritious foods, and she avoids junk and fried foods.
These celebrities show that with determination and commitment, diabetes can be managed even with busy schedules and frequent travel. Their examples serve as an inspiration for those struggling with diabetes to adopt a healthy diet and lifestyle. By making appropriate lifestyle modifications such as eating a clean diet, exercising regularly, getting sufficient sleep, and managing stress, diabetes can be effectively controlled. With the right approach, diabetes doesn't have to be as daunting as it is often perceived to be.
We are sorry that this post was not useful for you!
Let us improve this post!
Tell us how we can improve this post?