Chaat and other Indian street foods are a quintessential part of Indian culture. Everyone wants to dip their fingers into these lip-smacking dishes once in a while. When Indian street food serves as a staple for everyone, wouldn't diabetics want to enjoy these mouth-watering delicacies? But when it comes to following a strict diabetic diet, these delicious food items nowhere appear on the diabetic food list as most options are high in calories and carbs, making it hard for a diabetic to choose from.
Here is our guide with respect to the food for diabetics to make it easy for you to indulge in Chaat once in a while and add some spice and twist to your diabetes diet menu.
All food items in this street food guide are chosen on the basis of being one or all of the following:
Comparatively lower in calories & fat than other food items
Low GI foods (Glycemic Index)
Healthy cooking methods.
High in fibre and protein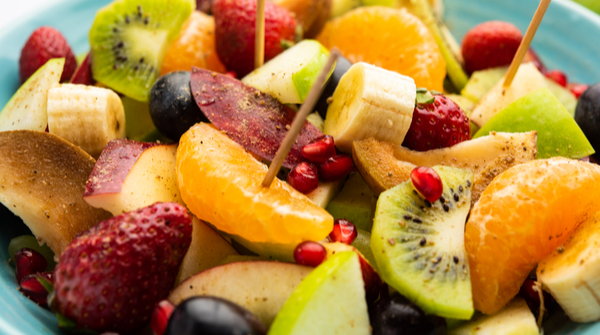 Chaat Food Guide – Try These, But Be in Control!
Gol Gappa or Paani Puri with green chutney only
Dahi bhalla with steamed bhallas if available
Dahi puri without the red chutney
Fruit chaat – including apples, pears, oranges, plums and papaya, preferably.
Bhel puri without meethi chutney
Sweet potato / Shakarkandi chaat
Chana chaat without sweet chutney
Spinach chaat
Roasted chana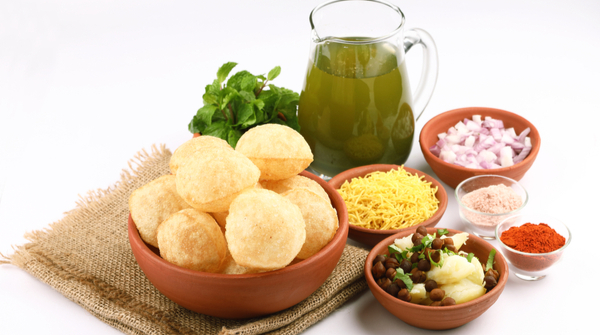 Diabetes Friendly Paani Puri Chaat
These yummy paani puris are made from organic cucumbers. All you need to do is wash and peel the cucumbers, core them to remove the seeds and stuff them with the paani puri stuffing and they are ready.
The paani, or the tangy and spicy water for the diabetic paani puri, is made from the cucumber pulp, cilantro, mint leaves, ginger and green chili.
Unlike traditional potato stuffing, you can use boiled and smashed chickpeas with a few toppings.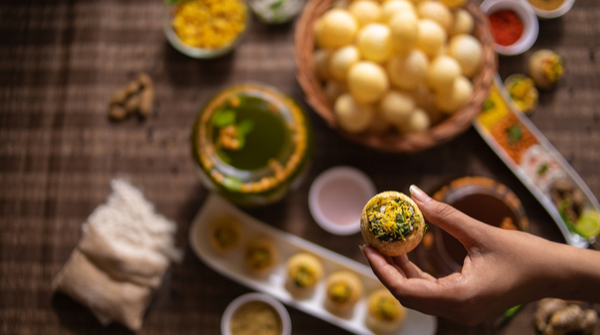 Ingredients
For the Puri and Stuffing
2 cucumbers peeled, cut in to 1 inch discs and cored to make each one like a cup.
1 cup cooked chickpeas pressure cooked with salt
1 small red onion finely chopped
1/2 carrot grated
1 small tomato finely chopped
1 tsp chaat masala. Add salt at the end as chaat masala has salt in it.
1/2 tsp roasted cumin powder
1 tbsp thin sev
1/2 tbsp savoury bundi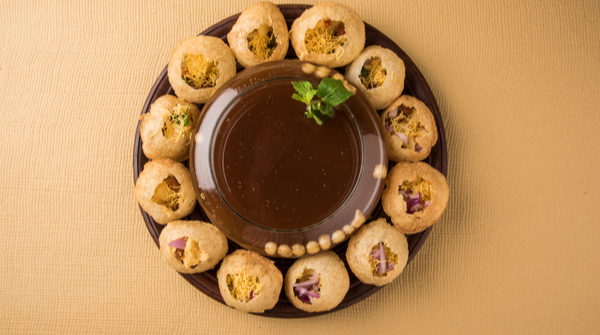 For Paani
1/4 cup cucumber pulp
1 cup cilantro washed
1/2 cup mint washed
1/2 inch ginger washed and peeled
2 green chilis
1 tbsp chaat/paani puri masala
1 tsp black salt
1 lime- juice only
1 tbsp tamarind pulp optional
1 glass water
Instructions
Wash and peel the cucumber. Cut them into 1-2 inch discs depending on the size of the cucumber. By using a small spoon, core the cucumber discs from one end to create a cup.
Be careful while doing it, as we don't need holes in the base of the cucumber cups. In that case, the puris will not be able to hold the Paani when you add it.
For the stuffing
Smash 2/3 of the boiled and cooked chickpeas finely with a potato masher. Keep the rest to use as a topping. If you want, you can add some black chickpeas or kala chana too, along with the white ones.
Now mix in the chopped onions, tomatoes, grated carrot, chopped green chili, and the spice powders listed.
For the Paani
Take all the ingredients in a blender and blend them with half a glass of water to make a smooth paste. Now add the rest of the water to make it a thin and watery juice like consistency.
Add some savoury bundis to finish. Adjust the taste by adding more salt, sugar(or sugar-free if diabetic) and your paani is ready.
Assembling the Paani Puri
Add a spoonful of the prepared stuffing to each cucumber puri and serve it with the tangy and spicy paani. Enjoy this healthy paani puri recipe on a hot and humid day or any time, if you wish.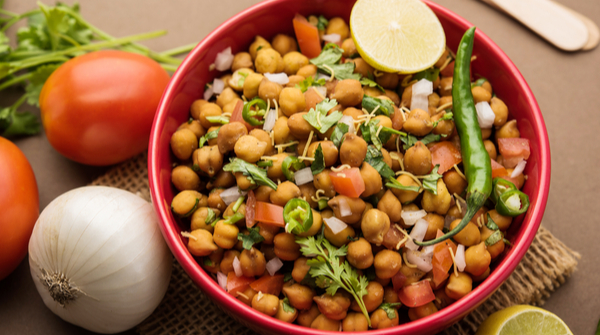 BeatO Tips
Avoid fried food.
Green chutney is always better than red. Red chutney is high in sugar.
Make your diabetic food list interesting and tangy by preparing chaat at home with diabetic friendly namkeens like murmure, roasted chana, moong dal, or with sprouted boiled black chana. Add lime, black salt, coriander, tomato, onions and cucumber to add some zing and indulge your chaat cravings in a healthy way.
Try out a healthy range of guilt-free products like Masala Poha, Masala Oats, Quinoa Chips, Bajra Puff & more here.
To conclude, regardless of what you eat or drink, make sure you are keeping a tab on your blood sugar levels by using a sugar testing machine or a glucometer. Optimise your diet and lifestyle according to your sugar levels and lead a happier and healthier life.