Healthy foods usually have most of us confused. And when it is the weekend, and you have family and friends over,it becomes even more difficult.
If the above said is you, then worry no more. We've curated a 3 meal recipe for you which is quick & easy and puts an end to "what to cook this weekend" worries.
Meal 1: Breakfast 

With diabetes and other lifestyle diseases pushing people to explore healthier options, breakfasts with complex carbohydrates has made a comeback.
And so we bring you Ragi Dosa. 
You'll need: 1 cup ragi flour, 1/4 cup sour curd, 1 onion finely chopped, 1 green chilli finely chopped, 1 tablespoon coriander leaves, cooking oil, 1 1/2 cup water and salt to taste.
For the tempering you'll need: 1/4 mustard seeds, 1/2 teaspoon cumin seeds, 5-7 cumin seeds and 1 teaspoon oil.
How to prepare:
Take ragi flour, green chillies and curd in a large bowl.
Add 1 1/2 cup water and salt. Mix well and keep batter aside for 30 mins.If required add more water
Add chopped onions and coriander leaves and mix well.
Heat 1 tsp oil in a pan. Add mustard seeds, cumin and curry leaves. Remove pan once seeds start cracking.
Heat dosa griddle over medium flame. When tawa turns hot take a ladle and pour the batter on it. Try to keep as less as possible empty gaps when circling the dosa.
Drizzle 1 tsp oil around the edges and cook until surface changes to brown.
Ease out the dosa and flip it and cook the other side.
Fold crisp and transfer to a plate.
You can enjoy this with some coconut or tomato chutney.
Meal 2: Lunch

 For lunch we bring you some Lemon Millet Rice.
It is also an ideal lunch box recipe and goes along well with papad on the side.
Millet is one of the healthiest gluten free grains you can find.
To begin with, you'll need: 1/2 cup kodo millet, 1 1/2 cup water, 1 1/2 tsp oil, 1/2 tsp mustard, 1 1/2 tsp chana dal, 1 1/2 tsp urad dal, 1/4 cup split cashew or peanuts, pinch of hing, 1 slit green chilli 1 broken red chilli, 1/8 tsp turmeric, 1 tsp grated ginger, 1 sprig curry leaves, 1 medium sized lemon and salt to taste.
How to prepare:
Add the millet to a pot and wash thoroughly. Drain and add 1 1/2 cup water and salt and let it soak for a while.
Cook this on medium flame until the water is absorbed. Cover the pot and simmer. Let this cool.
Heat a pan with oil. Add mustard and when it starts to splutter add chana dal, urad dal cashews, red chilli and green chilli.
When dal turns golden, add curry leaves, ginger and green chilli.
The curry leaves turn crispy soon. Turn off the stove and add turmeric and hing.
Add the earlier cooked millet and squeeze lemon juice over it.
Mix everything well.
Serve with curd or papad.
This lunch is low in glycemic index and high levels of dietary fibre.
Meal 3: Snacks
Before we jump to our dinner plan you can check out some healthy snack options: https://beatoapp.com/snacks/
Meal 4: Dinner 

Now for dinner, we plan to make easy to eat Roti Chana Rolls. 
For this preparation you'll need: 4 Tawa Paratha, 1/4 cup Green Chutney (Coriander & Mint) ,1/4 cup Sweet Chutney (Date & Tamarind), 1/2 cup Pickled onion and Chaat Masala Powder
For the filling you'll need: 1/2 cup Kala Chana (Black Chickpeas), 1 Onion finely chopped , 2 Green Chillies finely chopped, 3 cloves Garlic finely chopped , 1 inch Ginger finely chopped , 2 sprig Coriander (Dhania) Leaves  finely chopped ,2 sprig Mint Leaves (Pudina) finely chopped ,Salt to taste, 1 teaspoon Chaat Masala Powder, 1/2 teaspoon Amchur (Dry Mango Powder, 1/2 teaspoon Cumin (Jeera) powder and 1/2 teaspoon Lemon juice
Let's begin:
Wash and soak the kala chana in a bowl of water. You can do this in the morning itself or leave it overnight.
Transfer the kala chana and the water into the pressure cooker and pressure cook on medium flame for 30 minutes. Turn off the flame and allow the pressure to release naturally.
Once the pressure has released, drain the water and transfer the kala chana into a mixing bowl.
Mash the cooked kala chana with your fingers, to this bowl add the chopped onion, ginger, garlic, green chilli, coriander leaves, mint leaves, lemon juice and the dry masalas- salt,  chaat masala, amchur, cumin powder and finally add some besan.
Mix this well and bring together.
Heat a pan on medium heat, add very little oil,drop a tablespoon of the Kala Chana mixture ( make small pakoras) and cook for 3-4 minutes
Remove the pakora and drain excess oil.
Now place a tawa paratha, on it slather some green chutney and date and tamarind chutney, crumble two of the pakoras and place it in the center.
Next top with some onions sprinkle some chaat masala and wrap the roll from both the edges.
Finish this yummy roll till the last crumb.
End your day on a sweet note with one of our desserts. You can check them out here: https://www.beatoapp.com/blog/category/recipes/desserts/
Food always has an impact on our sugar levels and though our recipes are diabetic friendly, we suggest you still keep a check on your sugar levels with BeatO smart glucometer.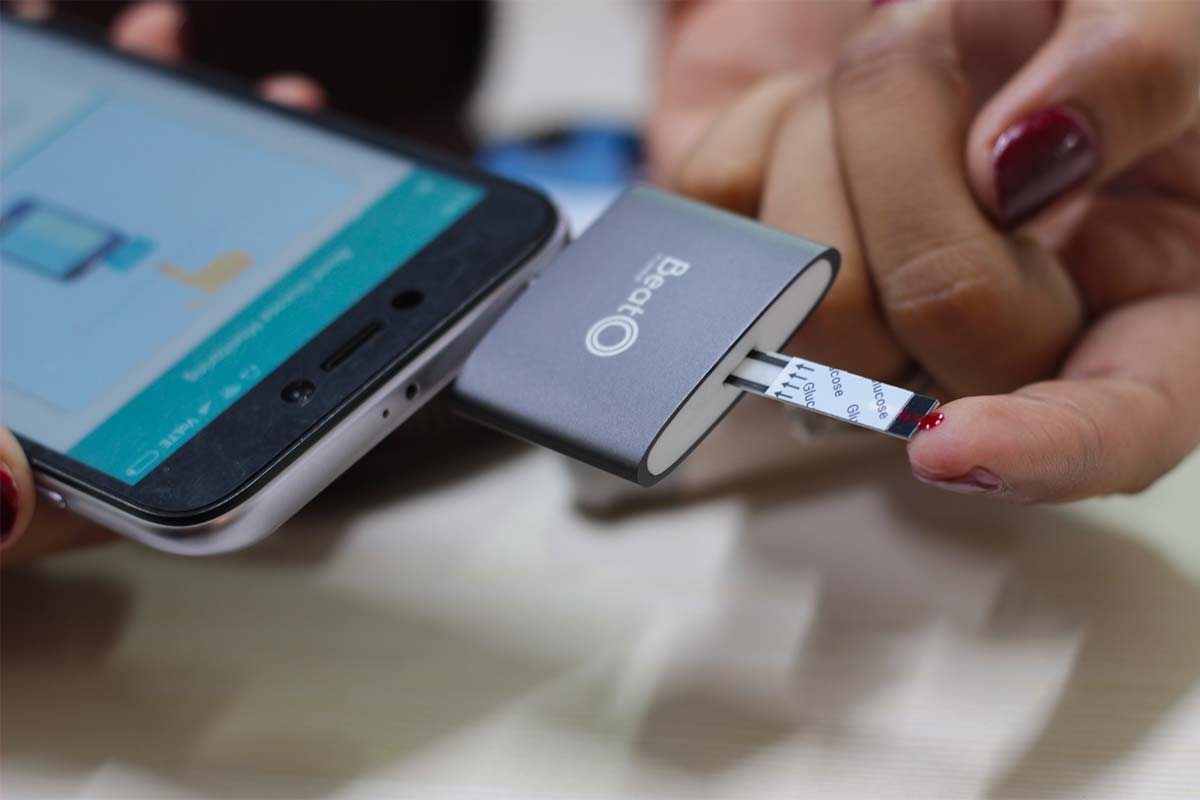 Recipe Credits 



Ragi Dosa: Ms. Salma

Roti Chana Roll: Ms.Ananya Majumdar 

If you like our recipes please leave a comment.