Fruits are a great source of fibre, antioxidants, and phytochemicals, which may improve your health. It has been suggested that increasing fruit consumption can help prevent numerous chronic illnesses, including type 2 diabetes. High-GI fruits should be avoided by diabetics or consumed in moderation to prevent sharp spikes in blood sugar levels.
Fruits for Diabetics
Fruit needs to be a component of a balanced diet. They are the ideal healthy snack because they are not only rich in vitamins and minerals, but also because the majority of them have few calories.
But fruit can also be very high in sugar. To prevent a rise in blood sugar, diabetics must closely monitor their sugar intake. In fact, some fruits, because of their high glycemic index, are regarded as "hazardous" for those who have diabetes.
What is a Glycemic Index?
The GI scale evaluates how quickly carbohydrate-containing foods impact your blood sugar level when consumed on their own. Blood glucose levels spike while eating foods with a high glycemic index (GI).
Which fruits are to be avoided by diabetics?
Not all foods with a low GI are healthy, and not all meals with a high GI are necessarily unhealthy. For instance, foods with a high GI value include watermelon and occasionally parsnips, whereas a low GI item is chocolate cake.
Despite having a high glycemic index, watermelon only has a low glycemic load per serving (120 g), so it won't significantly affect blood sugar levels. Consequently, a normal serving has a low glycemic load because it is mostly water and has a relatively low carbohydrate content. Still, it should only be consumed in moderation. They must be eaten raw, boiled, or juiced, but without any additional sugar.

Fresh fruit contains sugars, but they are not "free" sugars. Added sugars as well as those found in honey, syrups, nectar, and unsweetened fruit and vegetable juices are referred to as "free sugars." Fructose, the sugar found in fresh fruit, has minimal effects on a person's blood sugar or insulin levels.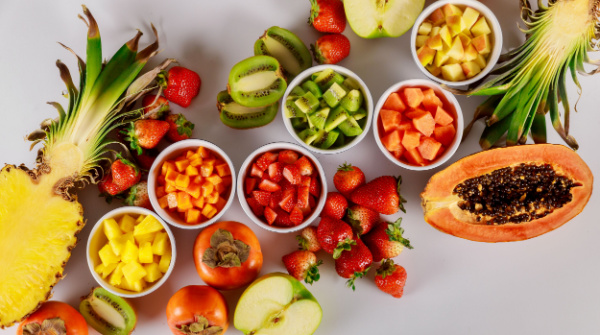 High-GI fruits include bananas, oranges, mangoes, grapes, raisins, dates, and pears. Avoid fruit juices as much as possible; whole fruits are more satisfying and contain more fibre. If purchasing canned fruit juices is necessary, look for the terms "unsweetened or extra-light" or "no sugar added" on the label. Avoid fruits that have been frozen or canned in thick syrup.
To manage diabetes type 2, incorporate fruits with a low GI into your diet. Cherries, prunes, grapefruit, dried apricots, peaches, apples, strawberries, plums, guavas, papayas, kiwis, pineapples, and figs are among the fruits with a low glycemic index.
Fruit is a vital component of a balanced diet, and a diabetic should not generally avoid it. As long as it fits within the daily diet plan's carbohydrate "budget" and the person does not have a fruit allergy, people with diabetes can eat any fruit they choose. There is a minimum recommended serving size for several fruit products.
Although dried fruits often have a tiny portion size, they are frequently high in fibre. 15 g of carbohydrates are present in about 2 tablespoons of raisins or dried cherries. You could also eat a small whole fruit to get the same amount of carbohydrates.
Low GI foods are preferable for maintaining stable blood sugar levels since they tend to digest more slowly than high GI foods and are therefore less likely to trigger a sharp rise in blood sugar levels.