Aloe Vera belongs to a class of cactus and a native of Africa. Nonetheless, it is grown across subtropical geographies, including Egypt, China, and India. Aloe Vera benefits are no secret. Known for its antiseptic, antibacterial, and antiviral properties, it has been in use for a long time.
Brief History & Usage
Interestingly, Aloe spread to Europe via the African / Egyptian route. It exhibits sharp, fuller, green leaves which can grow up to 18 inches, and its gel can be used topically and orally in processed juice. The topical application includes OTC moisturisers, creams, ointments, and shampoos/oils, while oral Aloe Vera products are available in liquid form and supplements.
Note – Aloe Vera is also exploited in its raw form, especially as a facial pack, and also for cuts, burns, bruises, skin irritation, and rashes.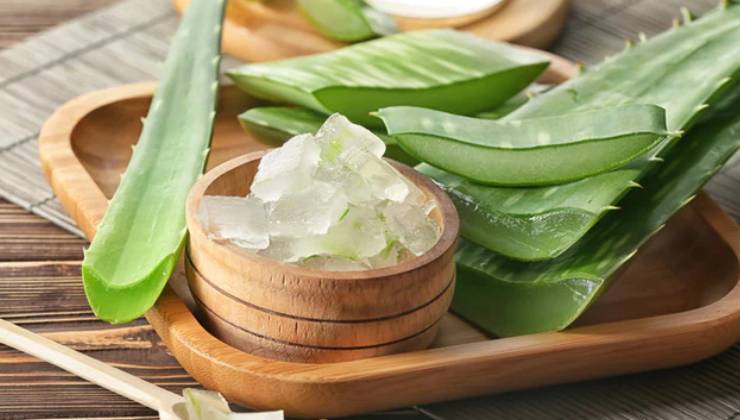 List of 8 Aloe Vera Benefits for Skin and Hair
One of the most popular uses of Aloe Vera is to fight skin allergies, rashes, and irritation. Its anti-inflammatory and cooling property not only reduces itching sensation but also relaxes the swelling around the affected area. Aloe Vera refrigerated gel works wonders while treating itchy, inflamed skin and conditions such as atopic dermatitis and eczema. The topical application offers maximum relief.
Moisturises and Hydrates the Skin
The benefits of Aloe Vera on the skin are now an open secret. When applied in its purest form (Raw), Aloe Vera nourishes and repairs skin because the gel has an amazingly high water content, almost 99%. The positive results begin to show almost immediately, especially around the face, neck, and arms. Aloe Vera reduces wrinkles, hydrates the dermis (second layer of skin), and cleanses the epidermis resulting in glowing, bouncy, and youthful skin. A word of caution: make sure you are not allergic to it. Apply Aloe Vera gel on a small patch, typically a sensitive area such as the back of the wrist or neck, to know if your skin agrees to it.
Supports Digestive Health
For a long time, folks affiliated with medicine and alternative medical fields knew one of Aloe Vera juice's benefits was its laxative property. Although it is mild in potency, Aloe juice results in minimum side effects and maximum relief from constipation and cramps. It improves the "good bacteria" factor and eliminates intestine toxins, rejuvenating the gut. It is highly recommended that oral usage of Aloe Vera should be initiated under strict medical supervision.
Aloe Vera has been used to reduce inflammation and heal wounds. Although recent studies have offered positive insight into the use of this plant to soothe/heal skin cuts, gashes, and bruises, the same researchers also explain that the supporting evidence is quite thin and, therefore, its effectiveness is not conclusive. Another study found that Aloe Vera can significantly reduce the healing time for first and second-degree burns. However, these experiments continue to find fluctuating results. Make sure you consult a healthcare professional before applying Aloe Vera gel: directly from the plant or in the form of OTC cream/ointment.
According to WHO, Aloe Vera is made up of 99% water. The remaining 1% contains dozens of active compounds. This includes enzymes, minerals, and vitamins. This plant is also loaded with phenolic compounds, organic acids, and polysaccharides. Adding Aloe Vera juice to your daily diet can boost your immune system. Make sure you check its potency (electrolytic factor) and the presence of other constituents (percentage-wise). You must also check its expiry date because Aloe Vera juice has a short shelf life. As a user, you should understand that Aloe Vera benefits are unpredictable and not regulated by administration or associated research institutes, and therefore its safety factor can be ambiguous.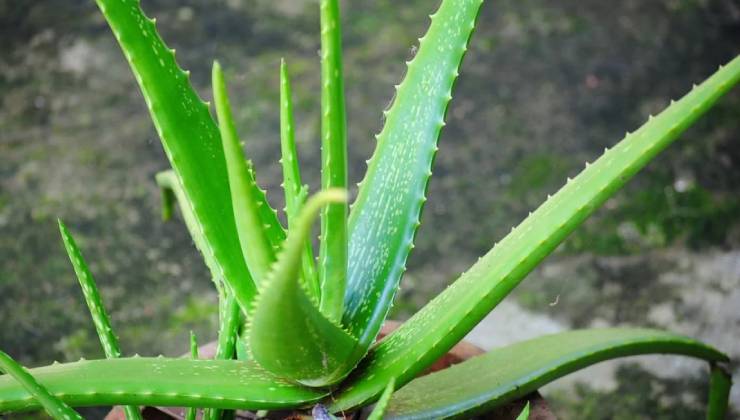 Acts as a Natural Anti-Inflammatory
According to an article published on a health-related website, vis-à-vis Aloe Vera juice benefits, the said write-up mentions that a study conducted on a small number of people (44 patients) suffering from ulcerative colitis, also known as "inflammatory bowel disease", found that consumption of small quantity of Aloe Vera juice offered impressive, positive results. Much of the credit for this goes to polyphenols (antioxidant compounds) present in Aloe Vera.
One of the major causes of oral health issues such as plaque build-up, loose gums, and tooth decay is because of the perpetual presence and build-up of specific bacteria called Streptococcus. Several studies have found ample proof that Aloe Vera juice benefits also include the elimination of this bacteria and, thereby, the accumulation of plaque. The studies also found that its action was as effective as some of the chemical-based mouthwashes.
Provides Nutritional Benefits
Although the benefits of Aloe Vera on the face are well known, not many are aware that Aloe Vera contains a host of nutrients too. This includes vitamins A, C, and E, which neutralise free radicals in the body. It also contains enzymes such as cellulase, amylase, lipase, and carboxypeptidase. Besides the benefits, Aloe Vera is loaded with magnesium, potassium, zinc, manganese, calcium, and selenium. Some improve/enhance the metabolic systems, while a few work as oxidative stress busters. Fatty and amino acids in Aloe Vera are some of the other constituents.
Support for Diabetes Health
Because Aloe Vera's goodness is still a mystery, research and studies are on the rise. This includes the benefits of Aloe Vera on hair and a few others. Even the sample size increases with each experiment. This has resulted in unravelling some of the hidden benefits of this amazing plant. One of them is its effectiveness against folks belonging to the pre-diabetic category. However, Aloe Vera provides a great alternative for people with type 2 diabetes, but only for lowering fasting blood sugar levels. Even so, dedicated Aloe Vera supplements targeted towards diabetes control should be carefully used because most of them are not approved, and their efficacy remains a subject of discussion.

Read More: Treatment of Diabetes – Home Remedies for Managing Type 2 Diabetes
Is Aloe Vera Good for the Skin? It Is, but What About Oral Consumption?
Aloe Vera in its natural form or as OTC products (cream, gel, and supplements) are not 100% clinically proven to be effective against certain conditions and ailments. Consulting a healthcare worker/practitioner can be safe in the long run. Make sure you either test Aloe Vera products in small doses (oral) or experiment on a small patch of skin (topical) to ensure you are not allergic to it. The above benefits have been compiled from various health and general websites. BeatO is not responsible for any adverse effects from the unsupervised use of this plant or its extracts. This blog is only for informational purposes. User discretion is strongly advised.
Conclusion
Aloe Vera is an excellent medicinal plant known for its wide range of health benefits and also as a beauty supplement. Nutrients in Aloe Vera and the presence of vitamins, enzymes, and phytochemicals effectively shield against various inflammatory, bacterial, and viral health problems. On the beauty front, Aloe Vera offers a chemical-free way of rejuvenating skin and skin ailments such as infections, burns, and rashes. However, most of the benefits described here and elsewhere come from small studies and equally small sample sizes.
————————————-
Disclaimer :
It is crucial to monitor your blood sugar levels using a smartphone-connected glucometer on a regular basis. If you feel doubtful about whether or not you should consume a particular item, you should do a quick sugar check before and after you consume it.
Being a person with diabetes, you can enjoy your favourite treats by making sure that you keep the portion size in check. Overindulging can lead to a spike in your sugar levels. It's important to discuss with your physician how a food item can affect your blood glucose levels. If you have any doubts about what you can include as a part of your diabetes diet, you should always speak to your doctor or health coach.
Get the best health advice with BeatO!
We are sorry that this post was not useful for you!
Let us improve this post!
Tell us how we can improve this post?