When India was going vocal about made-in India products, BeatO whole heartedly welcomed this decision and presented the BeatO CURV Glucometer. With this, BeatO has become one of the best glucometer manufacturers in India.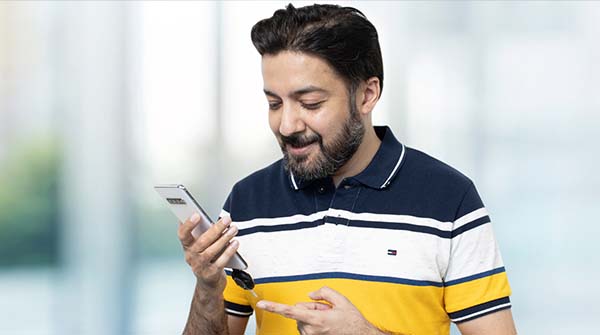 Check out some of the best things about BeatO CURV Glucometer :
BeatO CURV is a completely MAKE IN INDIA product.
It is India's first USB connected glucometer.
This smartphone glucometer is compatible with both USB Type C & Micro USB ports.
It works seamlessly with Android devices.
When you take a reading, it is constantly monitored by BeatO's Certified Diabetes Experts who periodically guide you to different aspects of lifestyle management in order to effectively manage diabetes. Diabetes care at home with smartphone glucometer was never so easy!
BeatO introduces you to a new approach to controlling diabetes. Not only is the device small and very easy to carry, but it also allows faster exchange and instant feedback from Diabetes Experts on your readings. BeatO CURV Glucometer lets you create a network through its easy share feature such that your family, Doctor and Personal Diabetes Expert gets an alert when your reading is not in the safe zone.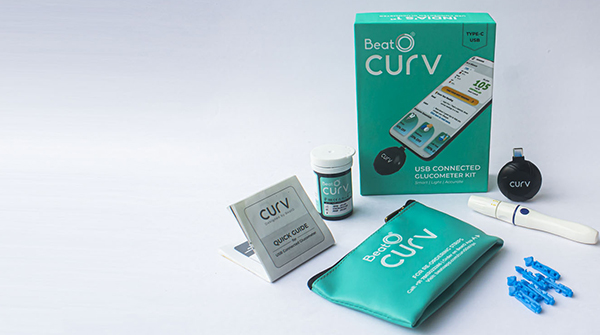 This smartphone glucometer comes with spare strips for regular blood glucose monitoring so that you never have an excuse to miss your self-assessment. Being CE-certified, the BeatO Glucometer follows all prescribed protocols for higher accuracy (+/- 15%). 
How to Use the BeatO CURV Glucometer
Unbox the BeatO CURV glucometer packed with added care for better product storage and safety and more accurate readings.
Plug the device into the USB port of your smartphone. Open the BeatO App.
Insert one strip (into the glucometer) out of the set of strips provided with the glucometer.
Using the lancet, prick your finger gently and squeeze to let out some blood.
Depending on the thickness of the skin, the lancet can be adjusted on a scale of 1 to 5 to prick the finger accordingly. Lancets set at 2 or 3 generally work well.
Put a tiny sample on the strip. The BeatO CURV glucometer instantly measures glucose levels in your blood and displays accurate readings in the Android app synced with the device.
Readings can be instantly shared with a network of your doctor, friends and family members.
Regular readings are stored as a log in the BeatO App; which can be used to analyse the history of blood glucose patterns.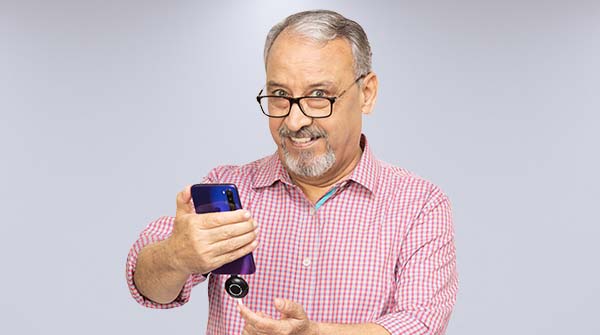 BeatO Curv Smartphone Glucometer ( Made in India)
For Android. Connect with Type-C or Micro USB
ISO 13485:2016 – Clinically tested and ISO certified 
Unbelievably small 
Coin-sized. Fits in your pocket. 
USB Connected 
Battery-Free. No charging needed
Easy to use 
Connect the glucometer, insert the strip and take a reading
All-in-one Kit 
Glucometer, lancing pen, lancets, strips and guide
Handy Waterproof Pouch
Included free. Fits in your pocket or purse
( ICON ) Your kit includes BeatO Health Coach on-call ( Certified Diabetes educators and Nutritionists) 
Get automatic calls from your coach for out-of-range readings. Also, get guidance on nutrition and lifestyle management.
Read More: How to Use a Glucometer? 
Do more with your readings via BeatO App
Automatically saves readings in your log book.No more writing! 
India's first chatbot that instantly guides you for your sugar levels.
Set reminders for taking your readings and medication on time
Automatic emergency SMS alerts to your family & doctor for out-of-range readings
Download and share your records via email with your doctor.
See your estimated HbA1c levels & Trends to analyze patterns.
Color-coded results to quickly identify what your reading range is.
Download the BeatO App
We are sorry that this post was not useful for you!
Let us improve this post!
Tell us how we can improve this post?