Unbeatable Mrs. T. Rithika

31 y.o., real-estate manager
Juvenile TYPE 1 Diabetes
Leading a beautiful life despite the odds.
Rithika was 9 years old when her juvenile diabetes was diagnosed – a big shocker for the family.
"It was summer holidays, and I was at my grandparent's place in Hyderabad. There were mangos all around. And I ate a lot of it. But something strange was happening. I was not gaining weight. And every time I ate mangos I would pass out on the floor. When doctors took my blood test it was 800 mg/dL. They said if I didn't get treated right away I could go blind."
Rithika spent the next 15 days in the hospital. Her parents flew in immediately. They were taken aback. It took them a while to understand her condition. Rithika's pancreas was not making any insulin, injecting it was the only option. After consulting her parents, Rithika's doctor taught her how to inject herself and told her that she shouldn't depend on anybody for insulin injection, ever.
"My doctor gave me the first shot & I have been taking it myself ever since."
Following this Rithika and her family moved to Italy for a few years.
"Italy was good. The schools were very supportive. At times they made diabetes friendly meals for me. Every month a counsellor would check on how I was doing and educate me about handling different situations as a juvenile diabetic. Moreover, I got to meet other kids with similar conditions. That made me realise I wasn't alone."
When Rithika moved back to India no school was ready to take her in. They were not ready to take her responsibility. After a number of failed requests Rithika had to opt for a national open school to give her boards. The same problem arose when she was looking for college admissions. But this time her mother filed a case against the education system. And won. Thanks to her, today any child with a lifestyle problem can apply to any Indian institute. They can't deny admission and will be responsible for the child's health too.
"One of my college professors suspended me for carrying insulin injections to my classes, like I was doing something illegal. My parents had to step in again, it was completely absurd."
The problems didn't end there for Rithika. After college she faced multiple rejections in relationships and job interviews both. But being a fighter, she kept trying.
Today Rithika has traveled 10 countries, done multiple solo adventure trips, is happily married to the love of her life, has an amazing job at an extremely well to do real-estate French company, and has recently given birth to a completely healthy baby. She also runs an Instagram page (@diabetic_mom_rithika) where she talks about her struggles as a type1 diabetic mom and shares tips to help out others.
Rithika has been using the BeatO Smart glucometer since 2016. She absolutely loves it and highly recommends it to people wherever she goes. When she got pregnant in 2020 she got the Abbott Freestyle Libre Continuous Glucose Monitoring (CGM) device via BeatO's Diabetes Control program.
"Anchit from BeatO has been a big help. He helped me get the GCM device asap and explained how to use it. This device was a blessing for my pregnancy. Me and my husband could finally breathe because of that. Before that I was getting hypoglycaemia attacks and was really scared about my delivery.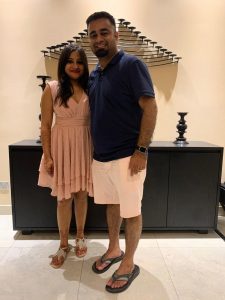 Even today Rithika checks her glucose at least 10 to15 times a day. And is full of praises for BeatO's products and services. We salute her undying spirit and are inspired by the amazing journey her life is.
Click here to know about BeatO's Diabetes Control program. It's one of a kind continuous glucose monitoring plan which comes with a CGM Device, 1-on-1 BeatO Health Coach
and 2 Digital Consults with Speciality Doctors.