Vikas Puri
IT Professional
Diagnosed with Type 2 Diabetes
Vikas is 54 years old and lives in Delhi with his wife, daughter and parents. He was diagnosed with pre diabetes in 2014. He realised that he needed to bring the required changes in his lifestyle in order to improve his condition.
He immediately got his blood tests done and discovered that he was a Type 2 diabetic. He was advised to make the necessary changes to bring his sugar levels under control. He was prescribed certain medicines for it. He believes that the medicines can only cure your symptoms but not your diabetic condition. He did not want to depend upon these medicines for improvement.
"My sedentary lifestyle was the reason behind my diabetic condition. I used to commute for three to four hours everyday and spent all my work hours sitting on a chair. With the work from home situation, I do not have to commute anymore and I get ample time to focus on my health. It was easier this way to have a fitness regime."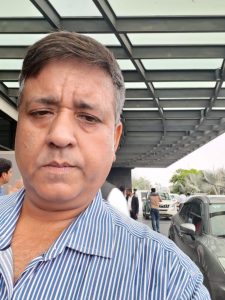 Vikas started his journey with BeatO in March 2021 after following his friend's recommendation. His health coach Akanksha Sinha guided him on his health journey and it was followed by significant improvements in his sugar levels. He regularly checks his sugar readings with BeatO's smartphone connected glucometer and he is also delighted that the App automatically logs all his readings.
"I make sure that I complete 10000 steps everyday. I feel that everyone should at least take a 10-15 minute walk after every meal. I easily complete 2000-3000 steps in that span of time. It has been crucial to my weight reduction and the subsequent improvement in my blood sugar levels."
"It is essential that you consume the right diet if you want a significant weight loss. I made sure that I cut out junk food. I no longer consume 4-5 cups of coffee everyday like I used to. My health coach Akanksha advised me to consume multigrain products which help me improve my sugar levels. Following my example, even my family started following a healthy diet. Improving my lifestyle has also set a positive example for my family."
"When the going gets tough, put one foot forward in front of the other and just keep going. Don't give up."
With persistent effort and determination, he was able to bring down his weight from 91 kg to 67 kg in just four months. His pulse rate used to be 100 every time he checked earlier, but now it comes out around 67. His sugar readings (Fasting Reading) have come down from 220 mg/dL to 95 mg/dL.
He also believes that stress management is equally important if one wants his sugar levels to be under control. He finds his solace in reading books. It keeps him in a positive state of mind and lets him stay care-free.
"I am a very inquisitive person by nature. I keep reading and writing to remain stress free. I have ample knowledge on subjects like Quantum Mechanics, Mathematics, Biology, etc. I am an avid reader and I like to acquire knowledge from wherever I can"
He can see a drastic change in his way of life as he is a happier and healthier person now. He gives full credit to BeatO for bringing about this change in him.
"BeatO is like my 360 degree support. It provides all three- doctor consultations, health coach support and smartphone connected glucometer. The guidance that I received from my health coach and doctors has been a boon for me as it has led to a major improvement in my diabetic condition."
Opt for the best health plans with BeatO.
We are sorry that this post was not useful for you!
Let us improve this post!
Tell us how we can improve this post?