The cost of treating chronic illnesses like diabetes has been skyrocketing. According to some studies, individuals spend around 25% of their household income on diabetes treatment in India. Thus, a comprehensive diabetes health insurance plan has become necessary to protect yourself financially. To cater to the needs of people with diabetes, check out how you can reduce your expenses with Diabetes Total.
India is considered as the diabetes capital of the world because of the exponential increase in cases of diabetes. Sedentary lifestyles such as long work hours, lack of exercise, and poor eating habits are causing an increase in health issues, especially diabetes. 
Though diabetes might not be as life-threatening, treatment is still costly. As per a recent study, the monthly expenses of a diabetic can go anywhere between Rs. 2000 – Rs. 7000 with additional costs going up to Rs. 20,000. The worrying part is that the amount does not include actual treatment. This is why one should opt for diabetes insurance plans to save thousands of rupees. Let us first delve into the basics of diabetes insurance. 
Why Should You Get Diabetes Health Insurance Plan?
Diabetes health insurance is a customised plan that covers treatment and hospitalization costs arising due to diabetes. Additionally, a diabetes health insurance plan can also refer to a comprehensive insurance plan that includes coverage for diabetes within its benefits. 
Let's talk about a few reasons to get diabetes insurance:
The number of diabetics in India is growing at an exponential rate. The country is soon expected to see a rise of 45% by 2030.
While diabetes can be controlled by making specific lifestyle changes, the risks of complications are still prevalent.
Since diabetes is a long-term ailment, the average claim size is 90 percent higher than other diseases.
Since diabetes is a progressive condition, the chances of expenses going up, including additional complications, are higher.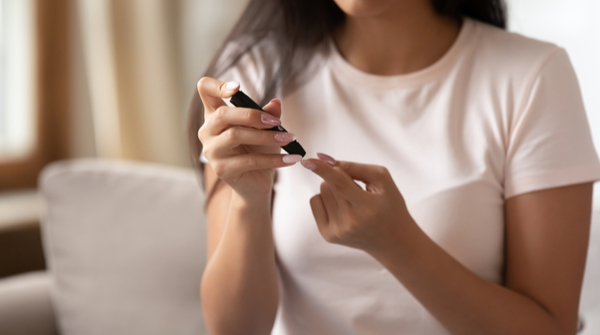 Factors to Keep in Mind When Opting for a Diabetes Health Insurance Plan
Now that we know what diabetes insurance is and its importance, here are a few factors to keep in mind:
The scope of coverage offered: This helps understand the total amount assured to a patient when needed. The coverage must be sufficient to cover the patient's medical expenses, including consultation, medications, and any health issues that may arise due to diabetes.
Waiting period: Most insurance providers consider diabetes as a pre-existing condition. Since this can impact the coverage, they promise and are generally disclosed during policy purchase. While discussing the policy terms, don't forget to clarify the waiting period.
In general, the waiting period ranges up to 4 years before the benefits can be availed. In Diabetes Total, the waiting period gets reduced to 2 years. 
Payable premiums: Premium is the amount paid on a monthly/yearly basis against the coverage. Hence, it is one of the most important factors to consider as it directly affects the annual budget. If diabetes is treated as a pre-existing condition by the insurer, the premiums may be higher, keeping complications in mind.
Mode of reimbursement: Many affordable health insurances for diabetes provide a cashless refund as soon as the waiting period is over, though this benefit is offered to a pre-listed number of hospitals. While opting for a policy, one must keep in mind whether the facility is provided and in how many hospitals.
5 Reasons Why Diabetes Insurance is Expensive in India
Having said all the above points, one can understand the need for opting for a diabetes insurance plan. However, when researching the same, what startles people are higher premiums, waiting periods, and other term policies. While the premiums can be higher, this must not deter patients from opting for diabetes insurance.
The risks of a person with diabetes are higher than a non-diabetic. Therefore, when providing insurance, the insurer must bear the risk of the person with diabetes outliving the policy term along with bearing the expenses incurred for treatment of the health complications that come along with diabetes.
When taking an insurance policy with a pre-existing condition, a patient might have to wait for certain years before claiming any amount for treatment. This waiting period can range up to 4 years. In order to reduce this period, a patient might have to spend more money, thus making the policy expensive.
As the age of a patient increases, so do the health complications of the person. In the case of a healthy person, the risk is less. However, insurers do prefer to keep a buffer to cover the risk borne despite the precautions taken by a person with diabetes to keep them fit.
During the time of policy renewal, many health insurance policies for diabetes have a prerequisite that requires the patient to undergo a health checkup. If the result is not deemed fit, the insurer can increase the premium to provide coverage.
As mentioned above, diabetes might not be a life-threatening disease, but it is no less expensive. The medications, consultation, etc., for a diabetic person, are costlier than for a non-diabetic person. Hence, insurers do take this into consideration when offering premiums.
All About BeatO Diabetes Total
BeatO Diabetes Total is a specialised and comprehensive plan in partnership with Religare Health Insurance for people with diabetes. The plan not only provides a cover of 5 lakhs but also provides a smart and handy glucometer, unlimited test strips, and video doctor consultations as part of the plan. Are you still wondering if this is ideal for you? Here are eight reasons why you should totally go for BeatO Diabetes Total Plan:
Rs 5 lakh Hospitalization Health Insurance Cover
Unlimited blood glucose strips
Unlimited video consultations with top Endocrinologists & Super Specialists
20% discount on medicines
Up to 75% discount on lab tests
Up to 38% off on physical exams
Nutritional Therapy – Personalized Diet Plan
Health Concierge Service
The BeatO Diabetes Plan is a comprehensive plan for diabetics as it provides coverage for medical expenses and assistance in diabetes management. BeatO Diabetes Total is definitely a one-stop-shop for diabetics with the complimentary services offered under the plan!
Read More: Diabetes Emergency Kit: What All You Need to Keep?
When you opt for a cover, it is recommended to make additional provisions for your family as well. This is important, especially if you opt for a floater plan where one may exhaust the cover, thus becoming unavailable to other family members during emergencies.
Download the BeatO App to monitor your blood glucose anywhere, anytime!
We are sorry that this post was not useful for you!
Let us improve this post!
Tell us how we can improve this post?