Introduction
The weekend is the time to unwind and treat yourself to some delicious snacks while keeping your diabetes management in check. Managing diabetes doesn't mean you have to give up on enjoying tasty snacks, especially during the weekend. We believe in empowering individuals to savour life's little pleasures while maintaining a healthy balance. So, get ready to tantalise your taste buds and elevate your weekend indulgence without guilt.
We've curated a list of the top 5 diabetes-friendly snacks for you to enjoy.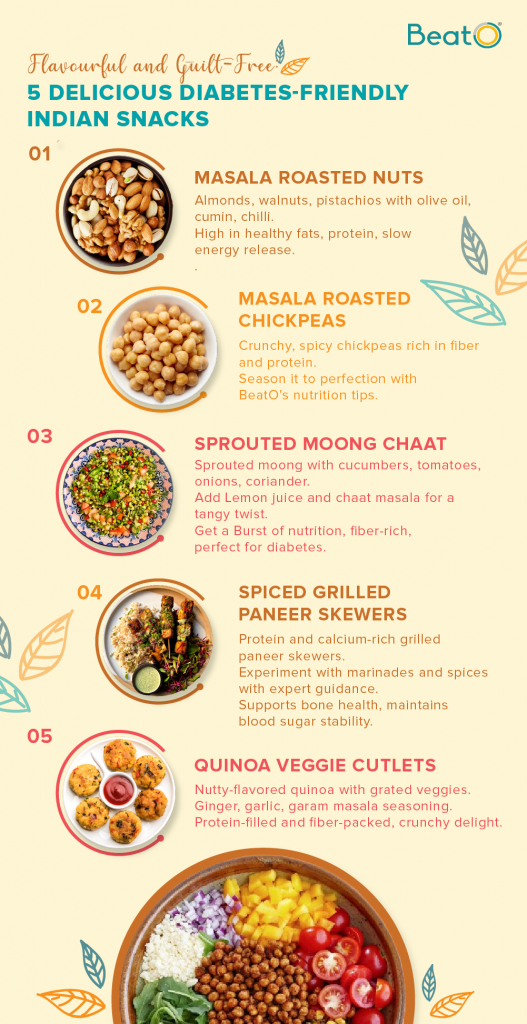 Masala Roasted Nuts
Nuts are a powerhouse of nutrition, and when spiced up with a delectable masala mix, they become an irresistible snack. Opt for a blend of almonds, walnuts, and pistachios, and roast them with a dash of olive oil, some cumin, Himalayan salt and a pinch of chilli powder. These crunchy delights are high in healthy fats and protein and provide a slow release of energy, preventing sudden spikes in blood sugar levels.
Masala Roasted Chickpeas
Are you craving something crunchy and spicy? Look no further than Masala Roasted Chickpeas. These little wonders are rich in fibre and protein, making them an ideal snack for people with diabetes. With BeatO's nutrition tips, you can learn how to perfectly season and roast them at home for a wholesome experience. Chickpeas are known to stabilize blood sugar levels and promote heart health, making them a guilt-free treat for your taste buds.
Sprouted Moong Chaat
Next, we have a refreshing and protein-packed option – Sprouted Moong Chaat. Toss a generous serving of sprouted moong (green gram) with finely chopped cucumbers, tomatoes, onions, and fresh coriander leaves. Squeeze in some lemon juice and sprinkle chaat masala for that tangy kick. The sprouts provide a burst of nutrition, while the veggies offer fibre, making it an ideal snack for diabetes management.
Spiced Grilled Paneer Skewers
For paneer lovers, we have a perfect flavoursome and diabetes-friendly snack! Spiced Grilled Paneer Skewers are an excellent source of protein and calcium, supporting your bone health while maintaining stable blood sugar levels. With BeatO's health experts guiding you, you can experiment with various marinades and spices, ensuring a delightful experience for your taste buds.
Quinoa Veggie Cutlets
Closing our list is a contemporary twist on the classic cutlets – Quinoa Veggie Cutlets. Cooked quinoa forms the base, lending it a delightful nutty flavour while packing in protein and fibre. Mix in grated vegetables like carrots, zucchini, and bell peppers, seasoned with ginger, garlic, and a pinch of garam masala. Shape the mixture into cutlets and pan-fry with minimal oil until golden brown. Enjoy this crunchy and satisfying snack with a side of mint chutney.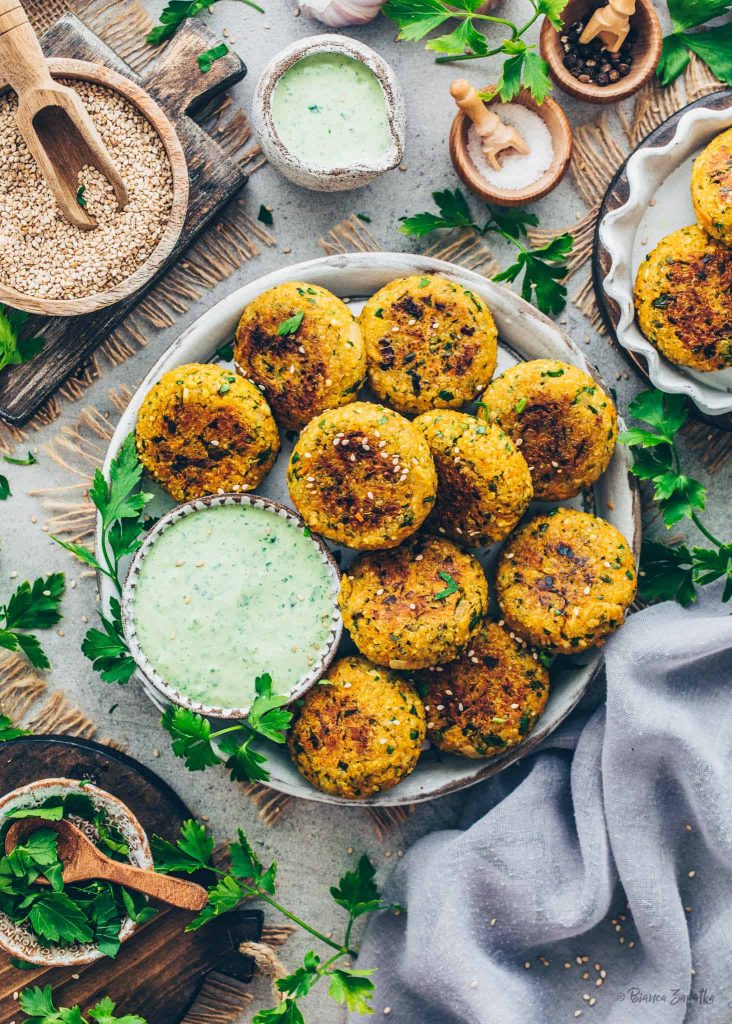 Conclusion
Remember, indulging in these delightful snacks is about moderation and portion control. BeatO is here to help you monitor your blood glucose levels and provide personalised insights to manage your diabetes effectively. Always consult your healthcare provider or a certified nutritionist before making significant changes to your diet.
Stay tuned for more Friday Favourites with BeatO, where we bring you the best of diabetes care, tips, and inspiration to lead a healthier and happier life.
---
Disclaimer :
It is crucial to monitor your blood sugar levels using a smartphone-connected glucometer on a regular basis. If you feel doubtful about whether or not you should consume a particular item, you should do a quick sugar check before and after you consume it.
Being a person with diabetes, you can enjoy your favourite treats by making sure that you keep the portion size in check. Overindulging can lead to a spike in your sugar levels. It's important to discuss with your physician how a food item can affect your blood glucose levels. If you have any doubts about what you can include as a part of your diabetes diet, you should always speak to your doctor or health coach.
Get the best health advice with BeatO!
We are sorry that this post was not useful for you!
Let us improve this post!
Tell us how we can improve this post?