Unbeatables #13
Unbeatable Mr. Shirish Joshi,
60 y.o.
Type 2 diabetic
Living in Navi Mumbai
Voluntary retired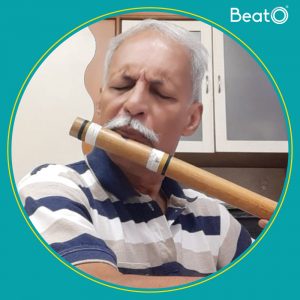 Reduced his HbA1c From 8% to 6.3% in three months
Mr. Shirish got to know about his Diabetes about 15 years back.
"Having diabetes and having troubles due to diabetes are two different things. I started getting major troubles due to diabetes only 4 months back. My feet started having a burning sensation. I was experiencing diabetic neuropathy, it is a type of nerve damage that can occur if you have diabetes. And once the nerves are damaged they don't get better."
Payel, one of the health coaches at BeatO, has been guiding Mr. Shirish with his diet and lifestyle. He was already eating healthy and going for regular walks but after the nerve damage he put a conscious effort in bringing his HbA1C down.
"She told me how different food types are digested and how long it takes for them to release sugar into the blood. I reduced my carbs, started measuring my sugar 3 times a day using the BeatO CURV Glucometer, and when my glucose was high I made a note of why it was high. I like that you can add a note to each of your readings on the BeatO App, and these notes are also shared with the doctors when you send them your readings. This way they already know what I did wrong when they're counselling me."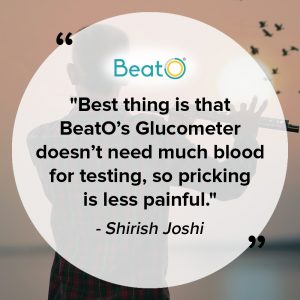 "Best thing is that BeatO's Glucometer doesn't need much blood for testing, so pricking is less painful. And it costs only about Rs.10 per testing, where it costs about Rs.15 with other glucometers."
Mr. Shirish lives with his wife and has two daughters, both married. He finds it convenient that all his readings are in one place, on the BeatO App. And is happy that when his sugar is very high or low his wife gets an alert, and even BeatO gets an alert.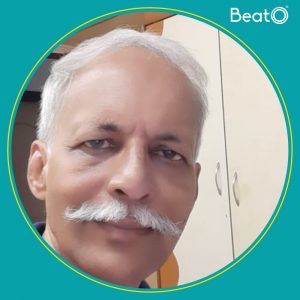 "When my readings are out-of-range BeatO health coaches proactively call me. We try to figure out why it happened, so I'm better prepared for next time. With a good lifestyle and good analysis using the BeatO App I reduced my HbA1c From 8% to 6.3%. in just three months. My feet pain has reduced and my sugar falls in the pre-diabetic range now!"
Mr. Shirish is full of positivity, loves music and plays the flute. He even takes flute lessons for the neighbourhood kids.