Mr. Nishant Joshi
31 y.o, Type 1 diabetic
Ph.D. student studying biotechnology
Reduced his glucose from 200mg/dL to 120mg/dL
Nishant Joshi did not know he was diabetic until 2016, when he started experiencing increased thirst and frequent urination. The doctors diagnosed him with Type 1 diabetes and told him that things were serious and needed immediate attention.
"I found BeatO on Amazon, while looking for a glucometer which can store my readings."
Mr. Joshi used to check his sugar once or twice a week, but with BeatO's unlimited strips he now checks 2-3 times a day! Another thing he really likes about BeatO is the dedicated dietician's help – Miss Ruksar has been helping him get his sugar levels under control.
"I am single & I live in a hostel, so I eat anything. But when someone is watching it's easier to follow a diet."
Miss Rukhsar, one of the BeatO educators, introduced Mr. Joshi to "The plate method" where one divides the food on their plate to measure the portion sizes of different foods. It's helpful for people with diabetes in managing their carbohydrate intake. Nishant shared a photo of his plate with Ruksar before his meals & she would tell him what to change to keep his sugar on track.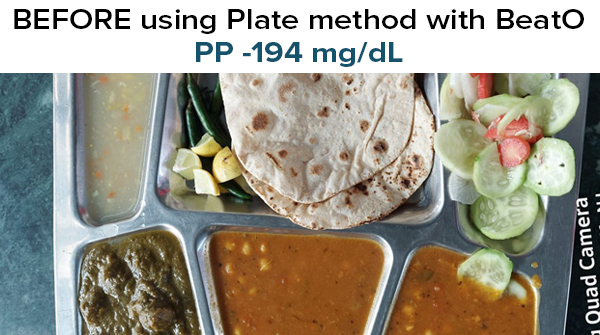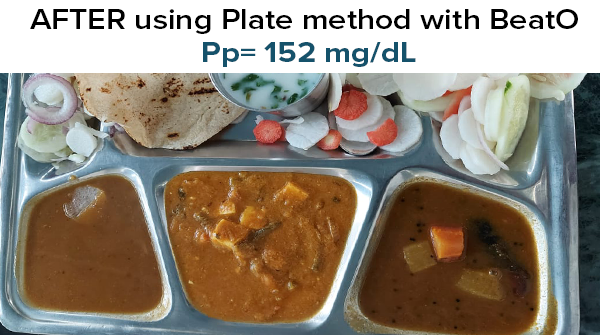 "Whatever we eat, our body turns it into carbohydrates, then breaks it down into glucose and slowly releases it into our blood. But if we directly eat glucose it stays in the blood for longer. Our main objective is to reduce the duration for which glucose stays in the blood. So Ruksar told me the more whole-grain and raw food I eat, the better it will be for my body. And in just one month of following the plate method, my readings went from red to yellow to green!"
Despite him mostly working in the laboratory, Nishant has also incorporated yoga and meditation into his routine. He loves the fact that he gets unlimited test-strips, 24×7 dietitian support, and can view his sugar trends with BeatO.
"BeatO has the perfect combination of services required to handle diabetes. Their technology and human resources are both superior, and work in perfect sync."
Nishant likes to spend his free time reading research papers. His PP has come down from 200mg/dL to 120mg/dL & fasting sugar has reduced from 200mg/dL to 80mg/dL.
Check out how Niteen Nagale reduced his HbA1c from 8.3% to 5.8%
We are sorry that this post was not useful for you!
Let us improve this post!
Tell us how we can improve this post?