Eating salad every day (almost) may be one of the most healthy eating habits that you can adopt and also one of the simplest. That said, you need to try out this healthy yet delicious chickpea quinoa salad recipe.
Ingredients for Chickpea Quinoa Salad
1 cup cooked white or black chickpeas
½ cup cucumber
½ cup green capsicum
½ cup onion diced
½ cup iceberg lettuce torn into pieces
½ cup tomato diced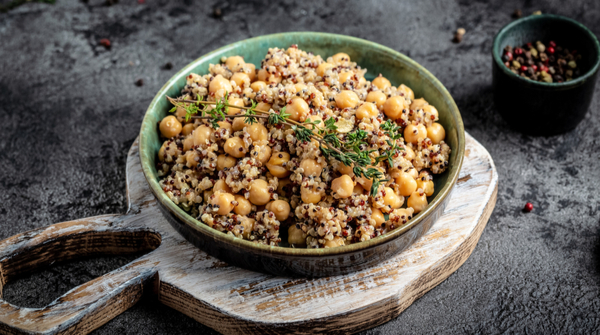 Seasoning
1 tablespoon chopped coriander
1 ½ teaspoon lemon
2 tablespoons Quinoa Puffs 
Chaat masala, salt and pepper to taste
Buy Diabetes-Friendly Quinoa Chips
How to prepare
Combine all ingredients except seasoning ingredients and put in refrigerator to chill.
At the time of serving add seasoning ingredients and sprinkle Quinoa puffs on top for a crunchy texture.
Your simple and healthy salad is ready.
Enjoy!
We thank Ms. Rashmi Kandhari for sharing this healthy recipe with us.
Read More: Pizza for Diabetics- Yay or Nay?
Try these Diabetes-Friendly Chips & Dip
We are sorry that this post was not useful for you!
Let us improve this post!
Tell us how we can improve this post?