Mint Masoor Tikki is an interesting combination of fresh mint leaves and masoor dal. You can eat them as evening snacks to satiate your hunger pangs while also receiving the goodness of protein and iron. Try this diabetic-friendly mint masoor tikki recipe to cut down on your calories.
Is masoor good for diabetes? Being rich in dietary fiber, masoor keeps you fuller for a longer time. This ultimately keeps you away from binge eating. Its complex carbs & low GI are helpful for diabetics in keeping their sugar level fluctuations in control. Moreover, mint comes with its own set of health benefits & adds a fresh, distinct, & aromatic flavor to the cutlets.
Mint Masoor Tikki Recipe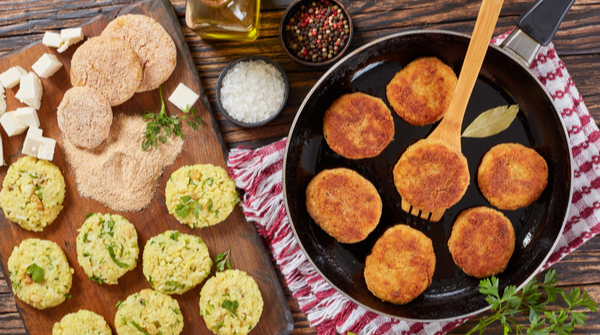 Ingredients:
Whole masoor (red lentils)- ¼ cup
Finely chopped mint leaves finely chopped- ¼ cup
Coriander leaves- ¼ cup
Finely chopped onion- ½
Ginger-green chili paste- 1 teaspoon
Roasted jeera powder- ½ teaspoon
Whole wheat bread crumbs- 2 teaspoons
Salt to taste
How to prepare:
Clean, wash and soak masoor overnight.
Drain it in the morning.
Put two cups of water in masoor dal and cook it till the daal is slightly overcooked.
Drain any excess water from the lentils and coarsely grind or pound with a mortar pestle.
Add the rest of the ingredients to the lentil paste and mix gently.
Divide the mixture into 6 portions and make round tikkis.
Heat a nonstick pan and add 1 tsp oil.
Cook tikkis on high heat till browned on both sides.
Serve this delicious recipe with green chutney to enhance its taste.
Read More: Tasty and Healthy Chaat Recipes for Diabetics
Download the BeatO App to learn more such healthy ways to manage and control diabetes.
We are sorry that this post was not useful for you!
Let us improve this post!
Tell us how we can improve this post?