Majority of the people believe that diabetics are not recommended to eat sweets and are bound to survive with no desserts for the remaining life. But, it completely is a myth. People who have diabetes can relish sugar, desserts, and just about any food that has caloric sweeteners. Diabetics can enjoy their favourite foods containing carbohydrates. They just need to keep a check on the portions and follow the diabetic plan for diabetes. There are various diabetic diet recipes to enjoy and creamy pumpkin pie is one of them. Here is the pumpkin pie recipe that you should definitely try.
Diabetes-friendly Pumpkin Pie Recipe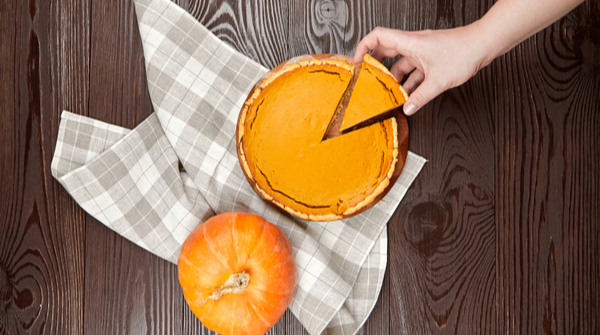 Ingredients:
1 can pumpkin
1/3 cup melted butter
3 packages fat-free, sugar-free, lower-calorie vanilla instant pudding mix
1½ cups graham cracker crumbs
2½ cups fat-free milk
1 package low-fat cream cheese
½ cup toasted chopped pecans
1½ teaspoons pumpkin pie spice
1½ teaspoons vanilla extract
1 container frozen light whipped dessert topping
Method:
Preheat the oven to 350°F.
For crust, take a blender and mix the graham crackers and melted butter. Blend these till the mixture becomes smooth.
Take a rectangular baking dish and force down this mixture onto it. Bake for around 10 minutes until it becomes golden. Let the mixture cool down.
Now take a large mixing bowl. Mix together the pudding mix, pumpkin, 1 teaspoon of the pumpkin pie spice, cream cheese, and the vanilla and blend them together till they combine well. You can add milk gradually so that these combine well. Now spread this mixture over the crust.
Take the whipped dessert topping and the left over ½ teaspoon pumpkin pie spice and fold these in the same bowl. Spread these over the pumpkin layer. Dust some pecans. Cover it and keep it in the refrigerator for 4 to 8 hours before you serve.
Serve this pumpkin pie in a small bowl with a spoon.
Read More: 10 Diabetes-friendly Fruits To Keep Your Blood Sugar In Control
Also, keep a close check on your blood sugar levels using BeatO App on your smartphones or with a glucometer.
We are sorry that this post was not useful for you!
Let us improve this post!
Tell us how we can improve this post?