Are you looking for healthy recipes for Eid? Read this blog to find some easy and diabetes-friendly eid recipes specially prepared by Chef Yogank Pranav, BeatO Food Lab.
The completion of Ramadan and the beginning of Shawwal, the 10th month of the Islamic calendar, are marked by Eid ul-Fitr.
Eid ul-Fitr is a three-day festival that commemorates the end of the holy month of Ramadan.
How is Eid Celebrated?
Muslims begin their Eid day celebrations with a prayer service held early after sunrise. Prior to the prayer, it is customary to eat something sweet such as dates.
Due to their low glycemic index, dates are an excellent source of nutrition. In addition, dates are high in fibre, antioxidants, and minerals such as iron, magnesium, and potassium. Hence, people with diabetes can safely eat 2-3 dates.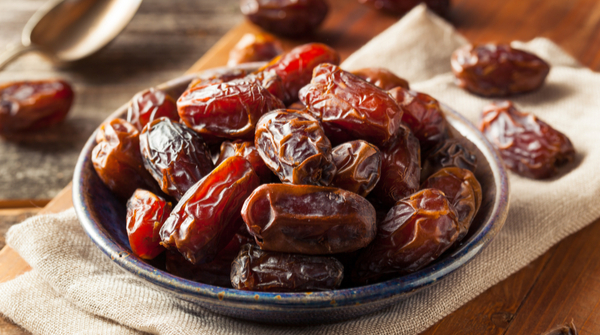 The word "Eid al-Fitr" literally means "festival of the breaking of the fast". Since the festival is about feasting and greeting each other, people celebrate Eid by eating traditional dishes and sweets.
However, like any other festival, Eid too can be challenging for people with diabetes due to several dietary restrictions.
BeatO's Diabetes Educator and Health Coach, Maduparna Pramanick shares, "Always check your blood glucose levels before taking the food. Always maintain the portion size, which helps you in keeping your BGL under control. Make it a habit to walk for 15-20 minutes after having a meal."
Healthy Eid Recipes From BeatO Food Lab
Anjeer Shahi Tukda With Almond Milk
Ingredients:
200 ml Almonds
40 gms Anjeer (figs)
8 pieces of Multigrain bread
50 gms Almonds
1 tsp Sweetener (if required)
1 tsp Rose Essence
Method
Soak the almonds overnight in warm water. Blend them with some almond milk and figs to make a smooth paste.
Cook the remaining almond milk with the almonds and figs paste over low heat until thickened a bit. Add rose water.
Cut and Toast the multigrain bread till they get crisp.
Add the strands of saffron to the warm mixture.
Put the toasted bread on a plate and spoon over the almond milk mixture.
Refrigerate for a few minutes and serve cold-garnished with some almond flakes or nuts of your choice.
Nutritional Benefits:
Almond milk is a non-dairy vegan product that has fewer calories. It's a rich source of Calcium and Vitamin E.
Figs are low in GI and have anti-diabetic properties. They are rich sources of antioxidants, flavonoids and minerals.
Multigrain bread has high fiber & fewer calories in comparison to white/brown bread; hence the spike of the BGL is less.
Almonds are rich in healthy fats, proteins, magnesium and fiber. It maintains your heart health by increasing HDL (good cholesterol)
Saffron is rich in nutrients like potassium, manganese, magnesium, zinc, selenium etc. It is also rich in antioxidants, thus protecting our body from oxidative stress, cancers & infections.
Read More: Eid Savories For Diabetics
Brown Rice Zarda Pulao
Ingredients
100 gms Brown Rice
2 tsp Ghee
1 tsp Olive Oil
5 gms Almonds
5 gms Cashew
10 gms Walnuts
4 Cloves
1 gm Kesar
2 tbsp Dry Coconut
25 gms Figs/Dates
2 Cardamom pods
1 tsp Sweetener (if required)
Method:
Heat the ghee and olive oil mixture in a Pot and roast the nuts; keep the roasted nuts aside.
Add cloves and lightly crushed cardamom in the same pot and lightly saute. Add 2 cups of water and saffron strands.
Bring this mixture to a boil and add soaked brown rice to it (soaked for at least 30 minutes).
When the rice is half-cooked, add figs/ dates puree and mix well. Taste and add sweetener if required.
Stir in the toasted nuts. Cover and cook.
Serve hot garnished with a few nuts.
Nutritional Benefits:
Brown rice is rich in fiber, and antioxidants. It boosts heart health & helps control cholesterol levels. It also helps in preventing obesity.
Ghee is rich in butyric acid, vitamin K & E. It has anti-cancer properties, boosts hair growth & regains its health. It also helps in strengthening the bones.
Olive oil is rich in MUFA & antioxidants. Apart from this, it has a modest amount of vitamin E & K in it.
Walnuts are rich in Omega3 fatty acids, have anti-inflammatory properties, reduce the risk of cancer, and help in maintaining gut health & managing weight.
Whole Wheat Seviyan With Foxtail Millets
Ingredients:
50 gms Whole Wheat Seviyan
30 tsp Foxtail Millet
500 ml Low Fat Skimmed Milk
1 tsp Ghee
200 ml Almond Milk (Optional)
5 gms Cashew
10 gms Walnuts
2 tsp Dry Coconut
1 gm Kesar
1 tsp Rose Essence
25 gms Cardamom Pods
2 Apples
1 tsp Sweetener (if required)
Method:
Heat ghee in a pan and toast the whole wheat seviyan and keep aside.
Heat milk in a thick bottom pan/pot and add soaked and washed foxtail millet along with almond milk. Simmer on low heat.
When the Millet is half-cooked, add the seviyan along with the nuts and rose essence and grated apple for sweetness.
Add some water; if the kheer looks too thick, cover and cook on low heat till the millet is completely cooked.
Serve hot or chilled, garnished with some slivered nuts.
Nutritional Benefits:
Millets are an excellent source of calcium and iron. It boosts cardiovascular health and the nervous system. It lowers LDL, manages diabetes, helps in weight reduction, promotes digestion & boosts immunity.
Apples are a rich source of soluble fiber and malic acid. It helps in reducing the risk of type 2 Diabetes & improves gut health by increasing good bacteria in the stomach.
To Sum Up
After a month-long fasting routine, you might feel drained and want to eat everything available. However, in order to keep your blood glucose levels under control, it is advised to monitor sugar levels at daily intervals.
Increase the frequency with which you check your blood glucose levels. Changes in routine and dietary habits, as well as medication modifications, during Ramadan, can have unanticipated consequences. If your blood glucose levels stay high, consult a diabetes health expert on BeatO App for guidance on how to manage sugar levels.
Eid Mubarak!
Courtesy: Healthshots
We are sorry that this post was not useful for you!
Let us improve this post!
Tell us how we can improve this post?