Both Asthma and Diabetes are chronic diseases. Is there a link between them? On this World Asthma Day, read this blog to find out more about asthma and diabetes!
What is Asthma?
Asthma is a chronic lung disease that affects both children and adults. Due to inflammation and tightening of the muscles around the tiny airways, the air channels in the lungs shrink.
Asthma symptoms include coughing, wheezing, shortness of breath, and chest tightness. These sensations come and go, and they're usually worse at night or during exercise.
Asthma symptoms can be exacerbated by other common triggers such as:
Dust, smoke, and fumes
Changes in the weather
Grass and tree pollen
Animal fur and feathers
Harsh soaps
Perfume
What is Diabetes?
Diabetes is a chronic disease that develops when the pancreas fails to produce enough insulin or when the body's insulin is ineffectively used. Insulin is a hormone that helps to keep blood sugar levels in check. Uncontrolled diabetes causes hyperglycemia, or high blood sugar, which causes catastrophic damage to many of the body's systems, including the neurons and blood vessels.
Asthma and Diabetes
Diabetes increases the risk of a variety of respiratory diseases such as asthma, COPD, fibrosis, and pneumonia. This increased risk could be due to diabetes patients' deteriorating lung function.
According to a study published in the journal Diabetes Care in 2010, the incidence of asthma, COPD, pulmonary fibrosis, and pneumonia was greater among 78,000 persons with type 1 or type 2 diabetes compared to adults without diabetes. Diabetes is thought to cause reduced lung function, which is a long-term consequence of the disease.
The prevalence of obesity could be one factor for a higher incidence of asthma in people with type 2 diabetes. Obesity is a significant risk factor for both type 2 diabetes and asthma.
However, insulin resistance and metabolic syndrome, both of which are linked to asthma, may increase the risk of asthma in patients with diabetes.
Metformin, a medicine routinely used to treat type 2 diabetes, has been linked to a lower incidence of asthma exacerbations. However, you should not take any medicines without a doctor's prescription.
Read More: Does Air Pollution Increase the Risk of Diabetes?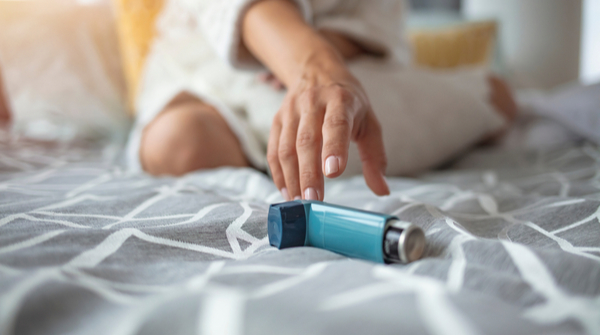 Asthma and Diabetes: Precautions and Care
If you haven't been diagnosed with asthma but are experiencing symptoms that are similar to asthma, tell your doctor so that you can be tested for it.
Consult your diabetes care team for assistance in managing your diabetes, especially since some asthma drugs can affect blood glucose levels.
Precautionary Measures That People With Asthma Should Follow:
Identify the things that can trigger your allergy
Stay away from those allergens
Avoid smoking
Increase your immunity through diet and exercise
Take medicines regularly
Why Is It Important to Monitor Your Blood Glucose?
Diabetes can impact your overall health. It is crucial to monitor your blood glucose levels at regular intervals. You can use a blood glucometer to check your glucose levels. It will assist you in determining how effective your diabetes treatment is. Always follow your health coach's advice.