Are your tired of avoiding cakes because of diabetes? Did you know that you can make a diabetic chocolate cake and relish it without worrying about your fluctuating sugar levels? Check out this lip-smacking recipe.
Ingredients for Diabetic Chocolate Cake
150 grams Diabetic Chocolate or any chocolate which has no sugar
4 large eggs separated
2 tbsp Cocoa Powder (unsweetened)
200 grams/2 cups Almond ground (Diabetics should avoid flour because flour converts to sugar eventually. Almond flour is used as a better alternative to regular flour)
2 tbsp Butter
8 tbsp Milk (hot)
2 tsp of coffee (optional)
1/4 tsp salt
1 tsp baking powder
50 grams of artificial sweetener/stevia  
You can add honey, which is natural and is sweeter than sugar. You can use about 3/4 the amount of honey when making your substitution (e.g., for 1 cup of sugar, use a generous 3/4 cup of honey). Decrease the liquid by 3 to 4 tablespoons per 1 cup substitution.
Frosting Ingredients
200 grams or 8 oz Diabetic Chocolate
200 ml Sour Cream
50 grams/ or 1/4 cup  Butter
1 tsp Vanilla
Method for Diabetic Chocolate Cake
Preheat the oven to 180 °C/340 °F
Grease and  line an 8 inch round baking pan (any other shape you want).
All the ingredients must be brought to room temperature.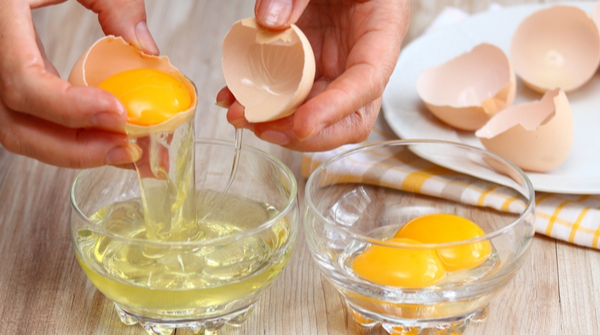 Separate the eggs – add the egg yolks to the mixer bowl.
Mix the almond flour with the baking powder, cocoa powder and half the salt.
Melt the butter and chocolate in a microwave safe bowl or in a double boiler. Set aside to cool.
Add coffee to the hot milk to make a paste. Let it cool.
Mix the batter.
Break the eggs yolks in an electric mixer bowl; add salt – use a whisk attachment and whisk on medium-low.
Slowly add in the sugar substitute – continue to whisk until light and foamy.
Combine the cooled coffee mixture to the cooled chocolate mixture – then add it to the whipped egg yolks.
Now add the almond mixture.
In a clean grease-proof mixer – whisk the egg whites with a pinch of salt until light and fluffy.
Gently fold the whipped egg whites to the batter. Use a whisk to mix in the first addition to lighten the batter, then switch to a spatula and fold in the rest.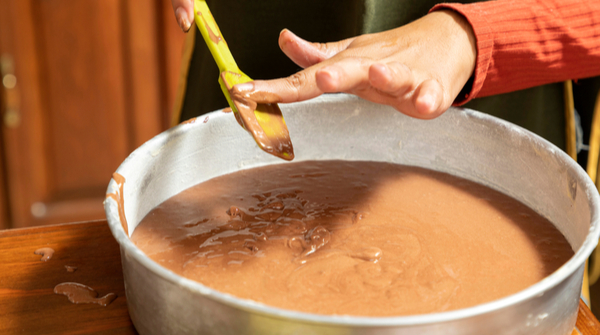 Pour batter into your prepared baking pan.
Bake for about 30 to 40 minutes for a single layer (about 20 to 25 minutes for two layers) until the skewer inserted in the centre comes out clean.  
Once baked cool in the pan for 10 mins, then remove from pan and cool completely before decorating.
Make the Frosting
Melt chocolate in a microwave-safe bowl or double boiler.
Add in the butter. The heat in the chocolate is usually enough to melt the butter, if not just place in microwave for 10 secs or so.
Let the chocolate cool to room temperature, then add the sour cream and vanilla. Mix well.
You can use this as filling between layers while still soft and warm, let it cool further in the fridge for a couple of hours until firm.
Once firm, give it a good stir with a spatula to lighten it.
Spread on the cake.
Pipe the rest as decoration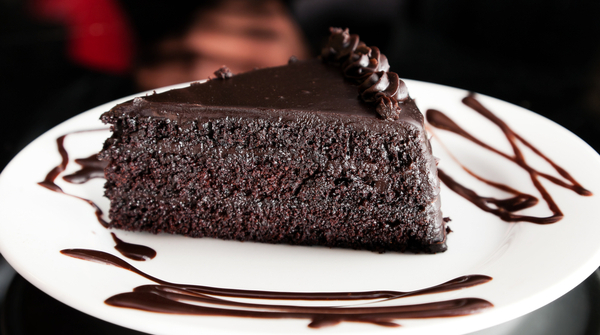 Check out the top diabetes-friendly recipe videos here.
Quick Note
The secret to the sweetness of this cake is the diabetic chocolate, which has it's own additions. Therefore, you don't have to add much of a sugar substitute, which makes it even healthier.
Once you are through eating your yummy cake, make sure to check your blood sugar level using a glucometer.
We thank Ms. Binita Jitendra for sharing this healthy dessert recipe with us. If you like it, please comment below.
We are sorry that this post was not useful for you!
Let us improve this post!
Tell us how we can improve this post?