Antioxidants in eggplant, such as vitamins A and C, help protect your cells from damage. We have brought a healthier way to cook eggplant, especially for people with diabetes. Check out this easy baked eggplant recipe.
Total Cook Time: 20-25 mins
Ingredients
1 eggplant, sliced into 1/2 inch rounds
1 tomato, sliced
1/4 cup grated fat-free Parmesan cheese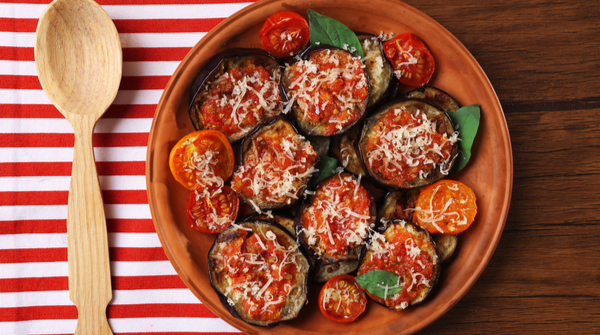 Method
Preheat oven to 400 degrees F (200 degrees C).
Check the temperature before proceeding to the next step.
Spray a cookie sheet with non-stick oil spray. Arrange eggplant rounds on the cookie sheet and sprinkle Parmesan over the eggplant. Layer one slice of tomato on top of each eggplant round. Sprinkle with Parmesan cheese.
Bake for 10 to 15 minutes.
Your baked eggplant is ready!
Click here to watch more diabetes-friendly recipe videos.
We are sorry that this post was not useful for you!
Let us improve this post!
Tell us how we can improve this post?