Beans are high in fibre and may help to lower the blood sugar spike that occurs after a meal. Make this quick Salad with our exclusive Bean Salad Recipe.
Ingredients:
1 cup uncooked quick-cooking pearl barley
1 (15-ounce) can black beans, rinsed and drained
1 pint grape or cherry tomatoes, halved
1/2 cup finely chopped green bell pepper
1/2 cup (2 ounces) cow's milk cheese
Jalapeno peppers cut into 1/4-inch cubes
1/3 cup lemon juice
2 tablespoons olive oil
1 teaspoon salt
3/4 cup fresh cilantro leaves (optional)
1/8 teaspoon ground red pepper (optional)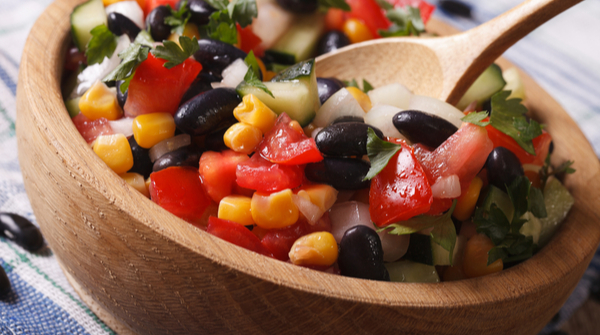 Method:
Cook barley, omitting salt.
Drain barley in a colander, and rinse with cold water until completely cooled.
Combine black beans, next 6 ingredients, and, if desired, cilantro and red pepper in a medium bowl.
Add barley to black bean mixture; toss gently.
Your healthy bean bowl is ready!
Read More: Ragi Bites Recipe for People With Diabetes
Recipe By : Jayabalan
We are sorry that this post was not useful for you!
Let us improve this post!
Tell us how we can improve this post?