Wondering what snack you can have while being on a diabetic diet? We have the perfect diabetes-friendly soya pakora recipe for you. Relish with a side of herbal tea or have it with your favorite mint chutney.
Soy is low in glycemic index and also gives a high amount of energy. You do not have to worry about a spike in your sugar levels. Therefore, this recipe is perfect for your evening snack time.
How To Make Diabetes-Friendly Soya Pakora?
Ingredients
Soya chunks – 2 cups
Ginger garlic paste – 1/2 spoon
Cumin seeds – 1/4 spoon
Turmeric powder – a pinch
Chilly powder – a pinch
Garam masala – 1/4 spoon
Mint leaves – as per your taste
Salt – to taste
Olive oil 5-6 spoon
Method
Soak soya chunks in warm water for 5-10 minutes.
Remove the water and chop the soya into small pieces.
Take a pan and pour 1 spoon of olive oil.
Add ginger garlic paste.
Keep stirring in order to avoid the paste getting burned.
To this add turmeric powder, chilli powder after a minute. Add cumin seeds and garam masala powder to it and stir.
Add soya chunks to this and sprinkle some water to blend it well.
Remove the pan from fire..
Once this mixture cools down add mint leaves to this and make small balls with the mixture.
Take a pan and add 5 spoon olive oil.
Fry the soya mixture until it gets a brown color.
Serve along with mint chutney.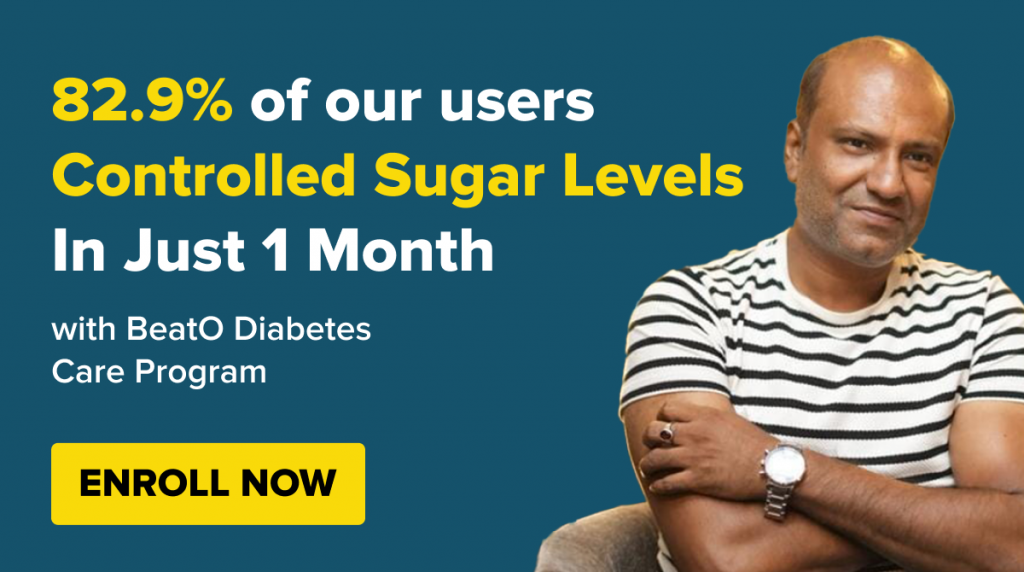 Read More – Diabetic Diet Plan For A Sportsperson
To know what all can be included in your diabetic diet, you should always consult your doctor or health coach. After knowing your sugar level, optimize your diet and lifestyle. Also, do not forget to monitor your sugar levels on a regular basis.
Keep a tab on your sugar levels with BeatO.
We are sorry that this post was not useful for you!
Let us improve this post!
Tell us how we can improve this post?