Diabetes is a metabolic condition where due to various reasons, the body stops the production of insulin, or the cells of different organs become resistant to it. Therefore, in order to keep your blood sugar levels in check, you must choose foods that can be digested slowly, is high in fiber, low in carbs and calories to maintain your sugar levels. This is where multigrain roti comes into the picture. The goodness of Jowar (white millet), Bajra (black millet), besan (gram flour), ragi (red millet), and vegetables, all in one, can do wonders in improving your health.
To sum up, these diabetes-friendly multigrain roti are delicious to the tongue and help control the sudden spike in glucose levels. This means that you can continue to eat chapatis without worrying about your blood sugar levels by replacing your basic wheat flour chapatis with these multigrain chapatis.
How to Make Multigrain Roti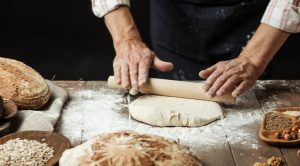 Total Cook Time: 25- 30 mins
Ingredients
1/4 cup Jowar flour
1/4 cup Bajra flour
2 tbsp besan
1/4 cup ragi flour
1/4 cup finely chopped onions
3 tbsp finely chopped coriander
1/4 cup whole wheat flour
1/4 cup finely chopped tomatoes
1 tsp finely chopped green chilies
1 tsp chili powder
1/4 tsp turmeric powder
salt to taste
oil for greasing and cooking
For Serving
Method
Combine all the ingredients in a deep bowl and knead into a soft dough using enough water.
Divide the dough into 6 equal portions and keep aside.
Take 1 plastic sheet and lightly grease it with oil.
Flatten 1 portion of the dough on it and cover with another plastic sheet.
Lightly press on the plastic sheet evenly to make a 100 mm. (4") diameter round.
Lift the roti with the plastic sheets, peel off the top plastic sheet and invert the roti on a hot non-stick tava (griddle). Finally, peel off the other plastic sheet as well.
Cook, using a little oil, till it is golden brown in color from both sides.
Repeat with the remaining portions to make 5 more rotis.
Serve immediately with fresh curd.
Read More: How to Cook Starch-free Rice if you have Diabetes?
Multigrain chapati is made with low glycaemic index ingredients like Jowar and Bajra, making it gluten-free, hence suitable for diabetes and weight loss. Moreover, it is essential to know that diabetes can be kept in control by tweaking your habits a little bit, like switching to multigrain chapatis.
Download the BeatO App and consult with our health coaches to get yourself a personalized diet and exercise schedule.
We are sorry that this post was not useful for you!
Let us improve this post!
Tell us how we can improve this post?