Check out this delicious and diabetes-friendly fudge brownie recipe!
Total Cook Time: 40- 45 mins
Ingredients
90 grams of unsweetened dark chocolate bites
2 teaspoons virgin coconut oil
1 cup ripe avocado flesh (230g) about 2 medium ripe avocado
2 eggs
1/2 cup almond flour ( you can get this online)
1/2 cup unsweetened cocoa powder
1/2 teaspoon baking soda
1/4 teaspoon salt
1 teaspoon vanilla extract – optional
Glazing and toppings
1/8 cup roasted and salted pecan nuts, crushed (12 g)
1/3 cup sugar-free chocolate bites, melted (40 g)
1/4 teaspoon virgin coconut oil
1 teaspoon coarse sea salt – optional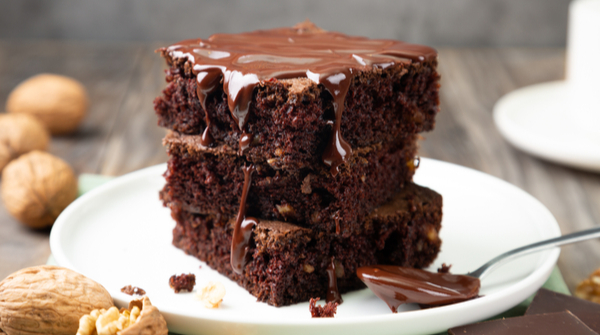 Method
Preheat oven to fan-forced 180 C (350F).
Line a square brownie pan (24 cm x 24cm) with parchment paper. Set aside.
In a small saucepan add the dark chocolate bites and coconut oil. Bring to medium heat until fully melted. You can also place both ingredients into a bowl and microwave on high for 30 seconds burst until fully melted. Set aside.
In your food processor with the S blade attachment, add all the brownie ingredients (except the glazing one) in this order: ripe avocado flesh, eggs, almond meal, unsweetened cocoa powder, baking soda, salt, vanilla extract and melted chocolate.
Process for 30 seconds to 1 minute or until all the ingredients come together and you obtain a thick brownie batter.
Transfer the batter into the prepared square pan. Spread the batter evenly in the pan using a spatula.
Bake for 25-30 minutes or until a skewer inserted in the middle of the brownie comes out clean.
Cool down 10 minutes in the pan before pulling out the brownie from the pan, using the parchment paper to pull out the brownie easily.
Transfer the brownie on a cookie rack to cool down until room temperature.
Meanwhile, prepare the chocolate glaze and toppings. In a small saucepan, under medium heat, melt the sugar-free chocolate bites with coconut oil until fully liquid and shiny. Stir often to avoid the chocolate from burning.
Use a teaspoon to drizzle the melted chocolate on top of the brownie and decorate with crushed pecan nuts and sea salt – optional.
Cut the brownie into 16 squares and store the brownies in the pantry in an airtight container for up to 4 days.
Read More: Diabetes-Friendly and Healthy Recipes for Holi
We are sorry that this post was not useful for you!
Let us improve this post!
Tell us how we can improve this post?