The term soup sounds dull and boring, something that is consumed by people when they are sick. But today, we bring you a mouthwatering recipe of ragi almond vegetable soup, a diabetic-friendly recipe that can be enjoyed by all alike. 
This is a wholesome high-protein soup that is packed with flavors of black pepper and ginger. Furthermore, the addition of vegetables to the soup makes it rich in nutrition and taste. 
What are the benefits of ragi? It is rich in calcium, has high fiber content, reduces blood cholesterol, and also regulates blood sugar levels. Moreover, because of its low GI (glycemic index) score, it also helps reduce food cravings and slows down the absorption of starch, thus helping in regulating the blood sugar of diabetics.
How to Make Ragi Almond Vegetable Soup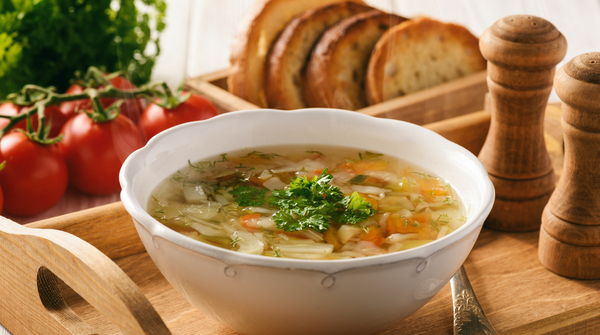 Ingredients
Ragi Flour/Finger Millet- 2 tablespoons
Onion- 1 (medium-sized)
Garlic- 4 cloves 
GInger- 1 inch
Carrot- 1 (medium-sized)
French Beans- ¼ cup
Almond- ½ cup (soaked overnight)
Salt as per taste
Coarsely crushed whole black peppercorns- ½ teaspoon 
Cumin powder- ¼ teaspoon
Ghee or olive oil- ½ teaspoon 
Wheat Soup sticks for serving
Tip: Finely chop all the vegetables.
To prepare
Peel and grind the almonds in a mixer into a fine paste.
Boil 2 cups of water in a saucepan, when it comes to the boiling stage, lower the flame.
Meanwhile, heat olive oil or ghee in a non-stick pan and sauté all the chopped vegetables along with onions and garlic for a minute on high flame.
In a bowl, take the ragi flour and make a slurry with water and slowly add it to the boiling water.
Mix it well and bring it to a boil again.
Once it's 75% done, add the chopped sautéed vegetables and continue boiling until they are tender.
Add almond paste, cumin powder, salt, and pepper.
Let it simmer for 2 minutes while stirring continuously.
Serve it warm in individual serving bowls with wheat soup sticks or wheat bread croutons.
Read More: Barley and Black Bean Salad Recipe
Download the BeatO App to learn about more such recipes that can help regulate your blood sugar levels. 
We are sorry that this post was not useful for you!
Let us improve this post!
Tell us how we can improve this post?