Karela Kadhi is diabetic-friendly comfort food that goes well with steamed rice. It's a great summer dish that also helps you beat the heat. Check out this easy-peasy Karela Methi Dana Kadhi Recipe.
Ingredients
4-5 medium sized Karelas
½ cup onions, chopped
1 cup curd
2 tablespoons gram flour
1 teaspoon ginger-green chilli paste
½ tsp methi dana seeds
½ tsp jeera
Salt to taste and extra for prepping the karela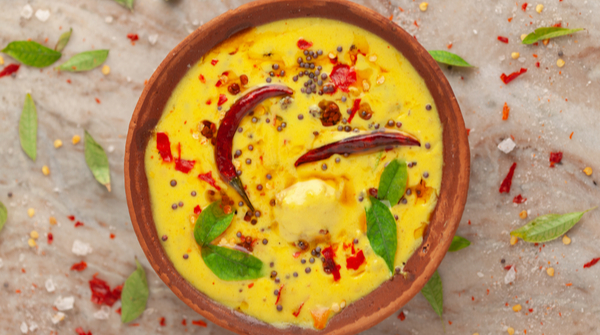 Method
Peel the Karelas and rub with salt and leave overnight or at least 3-4 hours.
Squeeze the Karelas to remove bitterness and cut them into small pieces
Heat Oil in a non-stick pan, add methi dana, jeera and wait till they begin to sputter.
Add the onions and sauté for a few minutes
Now add the Karelas and salt and cook over medium flame till the Karelas soften
In a separate bowl whisk curd and the gram flour to a smooth paste
Add the curd paste and ginger chilli paste to the onions and Karela mix in the pan
Add one cup of water and bring to a boil. Keep stirring continuously.
The kadhi will begin to thicken
Add salt and simmer for few minutes
Serve hot. You may sprinkle coriander for garnish.
Read More: Recipe for Ragi Almond Vegetable Soup
This delicious recipe was shared by Ms. Rashmi Kandhari
We are sorry that this post was not useful for you!
Let us improve this post!
Tell us how we can improve this post?